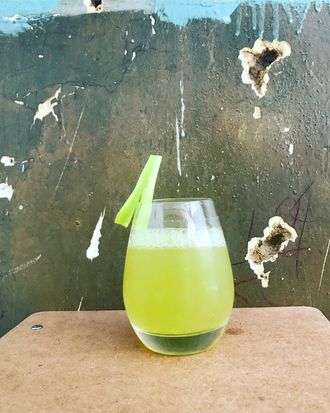 In a press release, a Crown Heights bar advertised what it claims are bullet holes.
Photo: Courtesy of Summerhill
No one but the very rich can outrun gentrification in New York, but certain communities have been more affected than others. A majority black and Afro-Caribbean neighborhood, Crown Heights is one of those neighborhoods. Its stretch of Franklin Avenue was a candidate for the new Williamsburg at the beginning of this decade. In 2016, a report published by NYU's Furman Center found that from 2010 to 2014 northern Crown Heights' rents rose 29.9 percent and southern Crown Heights rents rose 18.1 percent. (In Bed-Stuy, that figure was 36 percent.) From 2011 to 2015, DNAInfo found, the greatest increase in high-income renters occurred in the 11216 Zip Code — which includes parts of Crown Heights and Bed-Stuy. And while business ownership has grown in New York's 15 gentrifying neighborhoods, a report from city comptroller Scott Stringer found that the number of black-owned businesses declined from 2007 to 2012.
It's in this context that a new Brooklyn bar called Summerhill opened this summer — and has been met with a severe backlash by local residents, media outlets, and others. Summerhill is not your average bar in a gentrifying neighborhood, which is why the groans have given way to exasperated outrage. As Gothamist details, the bar opened in June but didn't attract much attention until a press release sent out on Monday advertised an unsavory and unsubstantiated story about a "bullet-hole-ridden wall." In this way, owner Becca Brennan has tried spinning the neighborhood's difficult past into a marketing gimmick. (She also plans to sell those 40-ounce bottles of rosé that are, at best, culturally tactless.)
Earlier today, Eater reported signs plastered on Summerhill's street describing the bar as "racist," "gentrifier," and "colonialist." On Twitter, political commentator Joy Reid — who moderated a panel about the neighborhood's future last night — called the Gothamist post "a reminder of why we need to talk …"
The one person that the controversy didn't seem to particularly bother is Brennan. Yesterday, on her now-private Instagram, she posted a screenshot of Eater's first story that focused in on a line mentioning she is white and captioned it, "@eater failed to notice the really great tan I have going on right now." The Summerhill account responded by writing, "thanks for the all internet love, you guys!" Today, Brennan's tone changed as she issued an apology via Gothamist. In it, she wrote that she "was excited" about the "bullet holes" in the bathroom wall, seeing it "as a shout out" to previous businesses, but now knows "my intention was misinterpreted and I'm sorry for that."
Whether she wants to keep talking or not, though, the conversation is happening. Residents now plan on having an open forum outside the bar at 2:30 p.m. this Saturday. On its Facebook event page, the organizers say Brennan aims to profit "by perpetuating violent and ridiculous stereotypes" and that anyone from the community is welcome to speak at the event.