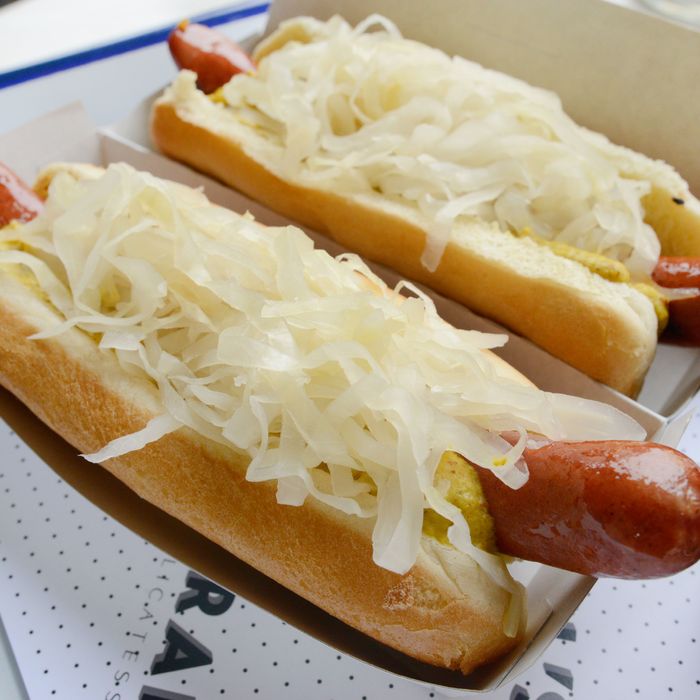 Non-sandwiches from Frankel's Delicatessen in Brooklyn.
Photo: Jody Wissner/New York Magazine
It is difficult to admit when you are wrong, so it's all the more admirable that the Louisville Courier-Journal has issued a correction to six previous articles, published between 1887 and 1966, which erroneously refer to "hot dogs" as "sandwiches."
On the following dates, the Courier-Journal incorrectly referred to hot dogs as sandwiches: Oct. 2, 1887; Aug. 10, 1901; March 20, 1904; July 21, 1935; Jan. 14, 1939; May 4, 1941; Sept. 15, 1950; June 29, 1958; Nov. 16, 1961; and Aug. 4, 1966. Among those errors were references to a frankfurter sausage sandwich, frankfurter sandwich, coney island sandwich, frankfurter sandwich with mustard, and, the most egregious, a frankfurter sandwich with catchup. We deeply regret the errors, especially that last one.
This may seem like it's the final word on the subject, but some defectors are not pleased. In fact, the paper has also published an op-ed that takes this particular correction to task, and a number of influential figures in the food world are — believe it or not — firmly in the camp that believes hot dogs are sandwiches. For the record, Grub Street agrees with the Courier-Journal: A hot dog is not a sandwich.