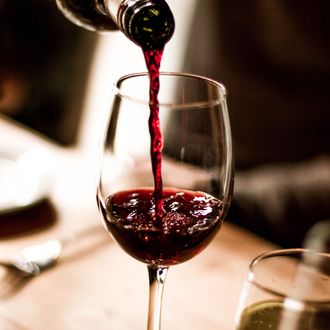 Could go either way, really.
Photo: Deby Aho/Getty Images/iStockphoto
With so much confusion today about alcohol's health effects, people who enjoy themselves a tipple or two really need to know the risks. (C'mon, it can't prevent heart disease and cause seven kinds of cancer, right?) Past research does in fact link moderate consumption of alcohol to several health benefits — chief among them probably red wine's ties to a healthier heart. But the link has never been proven definitively, and a recent raft of research has actually moved the dial in the opposite direction of this hypothesis. To get a better answer, the NIH now says it's launching a $100 million clinical trial that will focus directly on whether or not a drink a day can prevent heart attacks.
Here's how the trial is set up: Sixteen medical centers worldwide will follow almost 8,000 participants over a six-year period. These subjects will be at least 50 years old and randomly assigned to either quit drinking entirely or have a single alcoholic beverage of their choosing every day. Researchers will follow up at the end to see if the moderate drinkers or abstainers have a higher incidence of heart disease.
The Times notes critics have just one problem with the setup, though: Because this is such an expensive study, the NIH has decided to let the alcohol industry pay for the lion's share of it. Five of the world's largest alcohol manufacturers — Anheuser-Busch InBev, Heineken, Diageo, Pernod Ricard, and Carlsberg — have pledged $68 million so far. The National Institute on Alcohol Abuse and Alcoholism, which is overseeing the study, has assured people the industry won't have any influence: "This study could completely backfire on the alcoholic beverage industry, and they're going to have to live with it," its director George Koob says. "The money from the Foundation for the NIH has no strings attached. Whoever donates to that fund has no leverage whatsoever." What Koob doesn't note is that he was paid $40,000 in grant money by a liquor industry lobby group between 1990 and 1994, and he served on its advisory council from 1999 to 2003. In fact, "many of those involved in the study have financial links … to alcohol industry money," the Times says.
AB InBev explains it's been "investing heavily" in efforts to encourage responsible drinking lately, and that this is just the latest example. A rep tells the Times, "It's part of our overall commitment to reducing the harmful use of alcohol." A spokesperson for Pernod Ricard says they "don't want to have any say," but are "hoping the results nevertheless are going to be good." The study's lead investigator also adds that this "isn't anything other than a good old-fashioned NIH trial."
Still, the liquor industry might have to forgive people for thinking its hopeful involvement seems, at best, like a poor business decision: Even if the study produces fantastic news about alcohol's health effects, there's still a chance they could be undercut if the public distrusts the results on account of the role Big Booze played. If the results aren't good and end up linking moderate use to bunches of maladies, the alcohol industry can't really dispute them because it backed the study, and sales suffer. It's not clear how Smirnoff or Budweiser wins in either scenario.