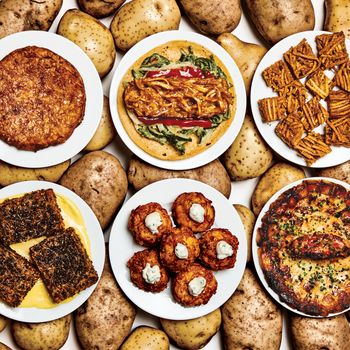 Hash-brown town.
Photo: Bobby Doherty/New York Magazine
Inspired by nostalgia for diner and steakhouse versions, not to mention Mickey D's, some of today's top chefs are reconceiving the classic shredded-potato side dish.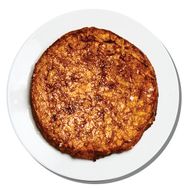 Classic Hash Browns
A&E Supply Co.
$7; 548 Fourth Ave., Gowanus
"I grew up loving McDonald's," says Adam Harvey, the chef-owner of butcher-shopstaurant A&E Supply Co., whose "farm to party" kitchen's cooking motto is "shamelessness in pursuit of deliciousness." So it's no surprise that a Golden Arches–inspired hash brown has earned a spot on his brunch menu. The straightforward version started out as an individual serving about the shape and size of an iPhone butproved so popular Harvey has supersized it, turning it into a half-pound shareable side dish.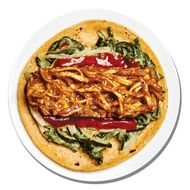 Hash-Brown Tacos
Empellón Midtown
$14; 510 Madison Ave.
When downtown taco savant Alex Stupak was putting together the menu for his new Madison Avenue Empellón, he asked himself, "What's appropriate for midtown? What is of the place?" The answer, given the proximity to all those iconic steakhouses, was simple: meat and potatoes, specifically hash-brown potatoes. And so the hash-brown taco with tomatillo ketchup was born. The process involves a little modernist potato-cooking technique borrowed from Stupak's old boss Wylie Dufresne, plus clarified butter, silicone flex-molds shaped like ladyfingers, and white pepper — which, incidentally, Stupak believes to be the key ingredient of McDonald's own recipe.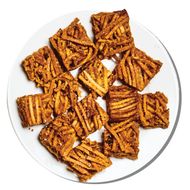 Potato Croutons
Made Nice
$15; 8 W. 28th St.
Croutons made from bread are pretty great; the ones Daniel Humm & Co. make from potatoes at Made Nice are even better. Idahos are baked at a low temperature, grated, mixed with butter, pressed into sheet trays, left to settle overnight, then cut into cubes, lightly floured, and deep-fried. They're so good Humm named the smoked-salmon-egg-and-frisée salad they go into "salmon rösti," rösti being the Swiss precursor to hash browns and literally translated from Swiss German as "crisp and golden."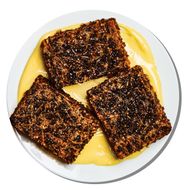 Nigella-Seed Potato Crisps
De Maria
$15; 19 Kenmare St.
You wouldn't guess it by studying her healthy-hipster all-day breakfast menu (whole-grain porridge with miso butter, housemade tahini yogurt, chile-turmeric bone broth with milk foam and mustard-seed oil), but "one of my favorite things to eat is an Egg McMuffin and hash browns," says De Maria chef Camille Becerra. Her nigella-seed potato crisps — brownie-size squares of grated potato mingled with quinoa and nigella seeds and served alongside a turmeric-poached egg, chorizo, and ají mayo — are a tribute.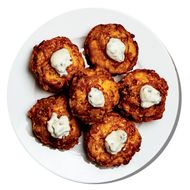 Hash Nuggets
Chefs Club Counter
$3.50 for three; 62 Spring St.
L.A. egg maestro Alvin Cailan is yet another admitted McDonald's hash-brown addict — "I'm a sucker for them, they're crack"—and no mere dabbler with the breakfast potato. His so-called hash nuggets are really tater tots for cosmopolites. Whereas most tot slingers mince or grate their potatoes too fine, often yielding mushy interiors, Cailan shreds his spuds in long julienne strips, shuns par-cooking, and always fries to order. The result is a very nicely texturized tot — make that nugget — that eats more like a rolled-up hash brown or rösti than a crisp-shelled lump of mashed potato.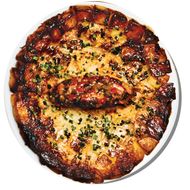 Hashbrown O'Brien
The Grill
$12; 99 E. 52nd St.
As befits a joint with an emphasis on steaks and chops, a sizable chunk of the Grill's menu is devoted to potatoes, including the Hashbrown O'Brien — a fat cake of diced Yukon Golds blanched in duck fat, pan-fried in clarified butter, topped with a roasted-pepper-onion-and-garlic chutney, and meant to be shared. Chef Mario Carbone attributes his fondness for hash browns and fried potato cakes in general to New York diners he has known, including the late great Stage Restaurant. Also: "The McDonald's hash brown is majestic, a modern wonder of the world."
Taxonomy | Know Your Fried Potato Patties
What's the difference between a rösti and a latke?
Hash Browns, a.k.a., hash-brown potatoes, or hash-browned potatoes: Typically shredded, diced, or grated spuds pressed into cakes and fried; the binder is simply potato starch but can also be shortening or another fat.
Potato Pancake: Not unlike hash browns, but firmer and cakier thanks to the use of egg as an additional binding agent.
Latke: The Ashkenazi Jewish, onion-forward take on the potato pancake, often made with matzo meal and served with applesauce and/or sour cream at Hanukkah.
Home Fries: Not patties but sliced or cubed potatoes parboiled and fried, often seen resting in great heaps on diner flattop griddles. usually cooked with chopped peppers and onions, they benefit from a good splash or two from a bottle of Heinz.
Rösti: Swiss hash browns made from grated potatoes typically pan-fried in butter and pressed into cakes that are practically the size of hubcaps.
Tater Tots: Little logs of shredded potato bound with corn flour and deep-fried: they are the ne plus ultra of the kids' menu, and were invented in 1953 by the frozen-potato-product juggernaut Ore-Ida as a way to utilize leftover bits and shavings from its frozen-French-fry production.
*A version of this article appears in the July 24, 2017, issue of New York Magazine.