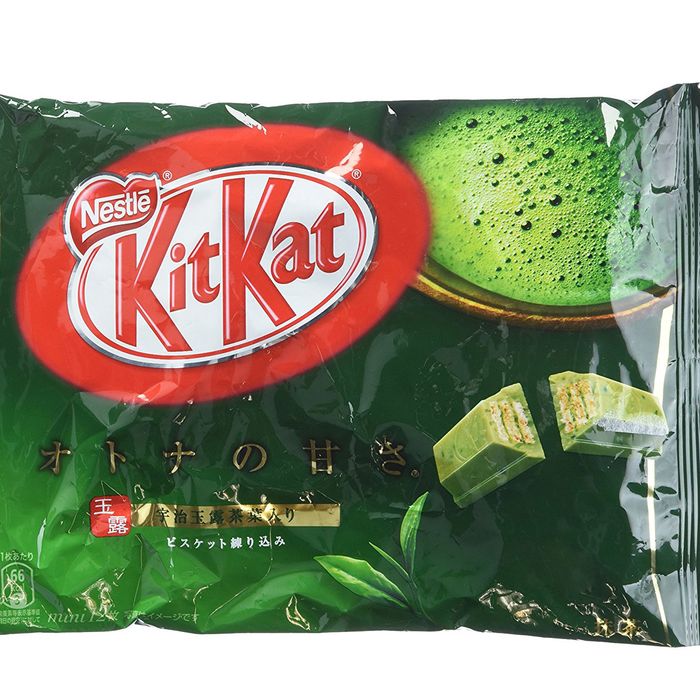 They really are that much better.
People are so enamored of Japan's legendary collection of unusual Kit Kat flavors that Nestlé Japan is opening a second factory to keep up with the "booming demand" for the bars, which come in chocolate, obviously, but also strawberry, edamame, grilled potato, sake, and wasabi, to pull at random from a very, very long list. (In 2010, the top-selling flavor was soy sauce.)
Per Bloomberg, the Japanese bars have been available in more than 300 varieties for decades, making the country a "go-to" destination for Kit Kat tourism. And Kit Kat tourism, like all tourism to Japan, is up: Visitor spending reached record numbers in the six months through June, according to the Japan National Tourism Organization. Better yet (for the Kit Kat biz): They're spending more than ever on candy, with consumption more than tripling over the past four years.
"We have Kit Kat back in Germany, but it's not the same," wistful backpacker Matt Borscak told Bloomberg. "The cultural touch makes it interesting. I bought a few packs of the wasabi ones, and I can't wait to shock my friends." Other popular flavors — there are currently 30 — include matcha, sake, and purple yam. "We take pride in our unique flavors and I think that makes Japan special in the Kit Kat world," said Takuya Hiramatsu, a spokesperson for Nestlé Japan.
The first new Kit Kat factory to open in 26 years, the plant — located in the western city of Himeji — is slated to open in August and will be "dedicated to making upscale, pricier versions of the snack."
While the true epicenter of Kit Kat technology is the brand's flagship Chocolatory store in Tokyo, which reopened this week, you can buy at least some of the more exciting flavors on Amazon, including wasabi, matcha, and sake. To get your hands on the brand's latest release, though, you'll have to book a trip to Tokyo, where a "cake-style" Gateau Mignon flavor is exclusively on offer.