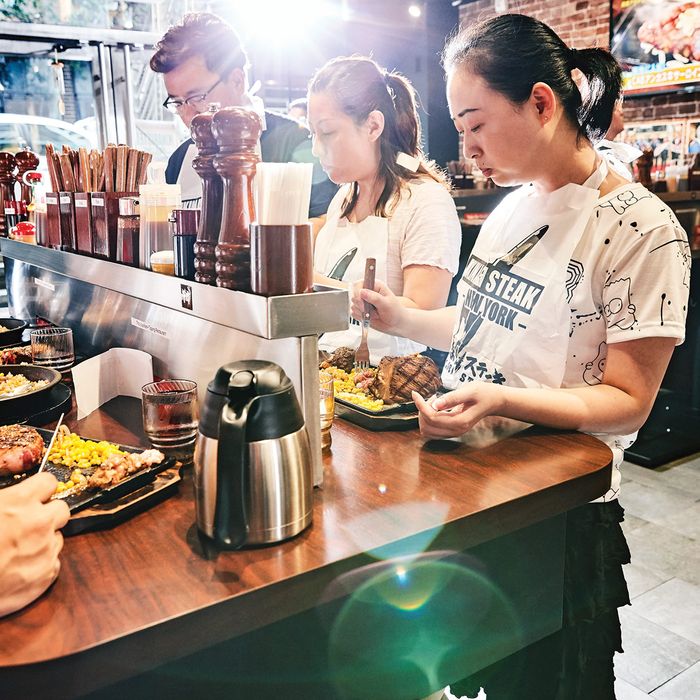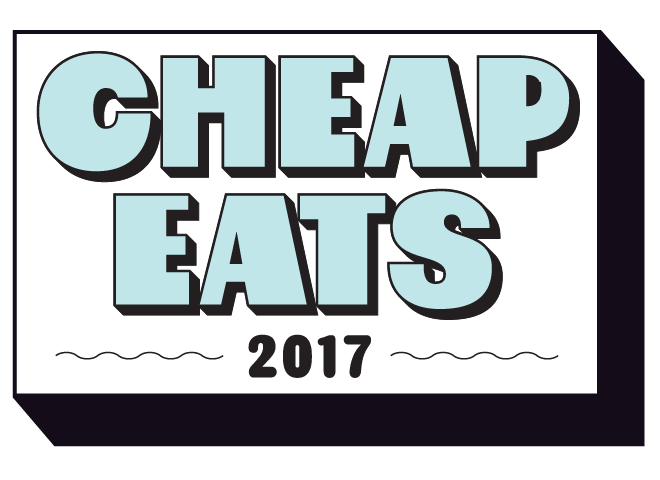 A guide to the long lines, often-kooky concepts, and oodles of noodles.
Ikinari Steak
90 E. 10th St.
Low-budget beefsteak.
Established: Tokyo, 2013; over 100 branches in Japan.
Best known for: No seats: quick turnover (and presumably all that money saved on chair upkeep) equals discounted rib eyes, sirloins, and filet mignons; beef served by the gram.
Pro tip: There are some not-so-secret secret tables with chairs behind a screen in the back of the restaurant.
Modus operandi: You choose the cut of steak and how much of it you want — priced at 8, 9, or 11 cents per gram — at the open-kitchen counter, where it's sliced to order.
Pro tip no. 2: The minimum weight for rib eye is listed as 300 grams (at 9 cents per gram, that's $27), but no one batted an eye when we requested 200 ($18).
What to get: Rib eye, garlic-pepper rice.
Estimated wait: 20 minutes on a recent Friday at around 7 p.m.
How long it's worth waiting for: 20 minutes.
Tim Ho Wan
85 Fourth Ave.
All-day dim sum.
Established: Hong Kong, 2009; 45 branches worldwide.
Best known for: Cheapest grub ever to earn a Michelin star.
What to get: BBQ pork buns, French toast with custard filling, sticky rice in lotus leaf.
Estimated wait: Two hours on a recent weekend morning; 20 minutes on a rainy Monday night.
Where to wait: Daytime: City of Saints coffee bar down the block; at night: Black & White bar across the street. Or Sundaes and Cones, if you want dessert first.
Pro tip: There's often no wait at the standing counter, plus you get a view of the chefs steaming rice rolls and braising chicken feet.
Best time to go: 3:15 to 4:15 p.m.; consider it a late lunch.
How long it's worth waiting for: 15 minutes.
E.A.K. Ramen
469 Sixth Ave.
Yokohama-style Iekei ramen, a combo of tonkotsu (pork-bone) and shoyu (soy-sauce) versions.
Established: Tokyo, 2008; 40 or so affiliated branches.
Selling point: It takes 18 hours to make the broth and what seems like an equally long time to get in to try it.
Actual wait: 45 minutes one night soon after the restaurant's May opening.
What to get: Signature E.A.K. ramen.
How long it's worth waiting for: 15 minutes.
TsuruTonTan Udon Noodle Brasserie
21 E. 16th St.
Traditional and outré udon served in bowls big enough to give a baby a bath in.
Established: 1989 in Osaka; 12 locations in Japan.
Best known for: Housemade noodles; over 400 recipes in the company playbook.
What to get: Mentaiko-caviar cold udon or hot duck udon.
Estimated wait: After a frenzied opening, none on a recent Thursday night. They also take reservations.
Ichiran Ramen
374 Johnson Ave., East Williamsburg
Customizable tonkotsu ramen.
Established: 1993; 70 locations worldwide.
Best known for: Customers slurp alone in human pens called "flavor concentration booths," designed to enhance the sensory experience of ramen-eating.
The verdict: Although you can eat in an adjacent conventional dining room, the isolation booth is more fun, whether or not it works as advertised, and the dividers between the booths retract so you can dine à deux anyway.
What to get: There's nothing besides tonkotsu ramen, though you can tweak it to your heart's content.
The wait: No wait on a recent Saturday night.
*A version of this article appears in the July 10, 2017, issue of New York Magazine.