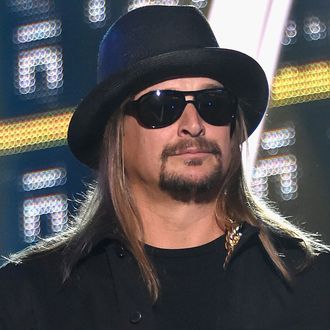 Only God knows why.
Photo: Mike Coppola/Getty Images for CMT
If the thought of Kid Rock occupying Michigan senator Debbie Stabenow's office terrifies you, here's some reassuring news from the eagle-eyed people at Crain's Detroit Business: Robert Ritchie, as the rap-rocker is actually known, hasn't filed any FEC paperwork yet for his self-proclaimed 2018 Senate run, but by sheer happenstance he has applied to trademark a restaurant called Kid Rock's Made in Detroit Bar & Grill.
The "campaign website" he tweeted out on Wednesday redirects all attempts to purchase "Kid Rock for U.S. Senate" merchandise to a Warner Bros. page, and contains literally no other content besides phrases such as "Pimp of the Nation" and a pic of him sitting in a stately looking chair next to a taxidermied deer. He's nevertheless warning people to expect "a major announcement in the near future."
What might that be? Well, turns out he's also booked as the first performer in Detroit's new Little Caesars Arena, which opens in September. He might debut some new music, and that date could also mark the grand opening of Kid Rock's restaurant if (as Crain's suspects) it were located at the arena — fittingly low-brow for somebody who not only loves eating at places such as Waffle House, but also fighting inside them. Arena reps won't spill the beans, saying they "have not yet announced any of the retail."
It's unclear if this is a licensing deal or if Kid Rock would actually own the establishment. But either way, the trademark is registered at the same Florida address listed for Kid Rock's Michigan-made American Badass Beer and his Made in Detroit clothing line, both of which will probably wind up in the new restaurant next to — if you're lucky — the Kid Rock 2018 trucker hats.