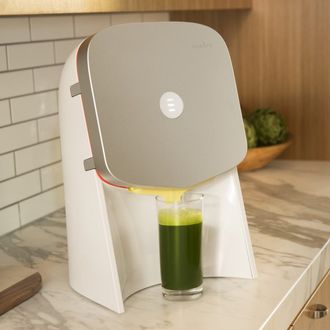 People widely mocked Juicero after discovering that the juice machine's fancy packets can be hand-squeezed just as effectively, and now the Silicon Valley start-up is about to seriously lower prices as part of what new CEO Jeff Dunn calls a "strategic shift." He outlines the bold plan in a staff memo that Fortune managed to get a hold of: "The current prices of $399 for the Press and $5–$7 for produce Packs are not a realistic way for us to fulfill our mission at the scale to which we aspire," he writes. To fix this problem, they're rolling out a Press version 2.0 that retails for a lower price, and are also making individual juice packets cheaper. Dunn didn't give specifics, but an insider tells Fortune the price point for the new machine is "in the $200 range." This is the same device Juicero initially charged $700 for, before slashing that by about 40 percent in January.
Juicero's first price reduction came before Bloomberg's April exposé revealed Juicero users could simply squeeze packs with their bare hands to get "nearly the same amount of juice … just as quickly." The start-up hasn't exactly broken any sales records in the months since, so Juicero's "strategic shift" actually has a second part: It's also laying off about 25 percent of its staff. Mostly, it's folks working in sales and marketing, since they've been doing a lot of thumb-twiddling lately anyways. Also, founder Doug Evans — the self-described "Steve Jobs" of juicing — is taking a hit; he'll be "stepping back from daily operations" at the company, Dunn notes, but is staying on as a board member.
Dunn also made sure to blast Bloomberg once more in the memo, writing, "It was frustrating to read that something we always knew about, and that our customers simply aren't interested in doing, was somehow new and relevant." To prop up his point, he adds that not even 5 percent of customers took Juicero up on its offer to return their machines, no questions asked.