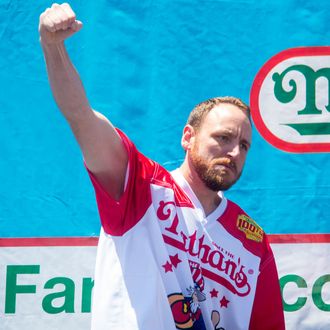 Chestnut celebrating after totally grossing everybody out.
Photo: Eric Thayer/Getty Images
The average American eats 70 hot dogs per year. For yesterday's Nathan's Hot Dog Eating Contest at Coney Island, human food incinerator Joey Chestnut destroyed 72 in ten minutes, which was enough for his tenth title and a new competition record. As usual, the event aired live on ESPN2, and afterward the channel congratulated the back-to-back champ by putting his name squarely among the world's all-time greatest athletes:
Naturally, many sports fans took issue with what they see as a hot-dog glutton on the same leaderboard as Yogi Berra and Bill Russell. ESPN's tweet elicited a lot of "delete your account" replies on Twitter, and one incensed Reddit user commented, "This is the most NHL coverage on ESPN in years." (Which isn't exactly an invalid point.) But someone trying to defend Chestnut's grotesque feat — by now a veritable American tradition — might suggest that these cynics judge whether or not mass hot-dog inhalation is a sport after they try consuming 20,000 calories in the amount of time it takes Rafael Nadal to buy a six-pack of Diet Coke at the supermarket.