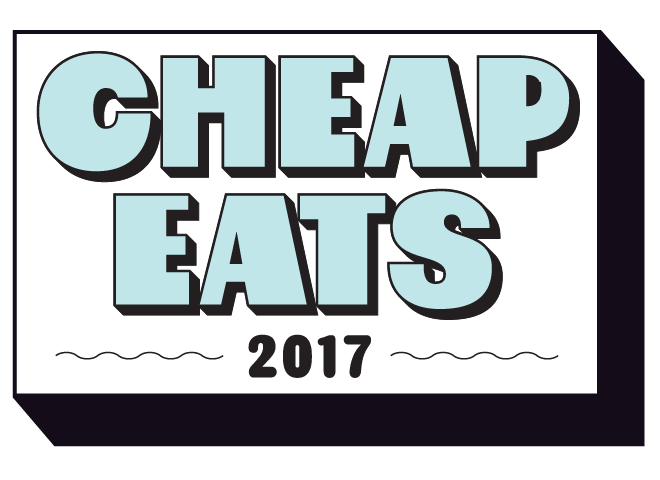 Snacky Italian street food, both traditional and newfangled, is good, cheap, and on the rise. How to tell a trapizzino from a tramezzino and a panzerotto from a fried pizza.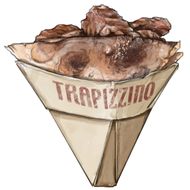 Trapizzino
Invented in 2008 by a Roman pizzaiolo, this puffy square of pizza bianca is sliced into triangles that are split open, then stuffed with saucy classics like chicken cacciatora. Think scarpetta (the act of swabbing the plate with a hunk of bread) via pita pocket. The name is a play on tramezzino and pizza. At Trapizzino, 144 Orchard St.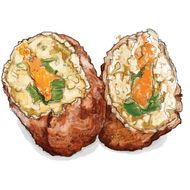 Arancino
Deep-fried rice ball typically ensconcing meat sauce, mozzarella, and peas; once found mainly at Italian delis and pizzerias but now as ubiquitous on restaurant menus as kale salads. The word means "little orange," hence the peas that represent the seeds of the fruit. Archestratus, the bookstore–cum–Sicilian café, makes a great one. At Archestratus Books & Foods, 160 Huron St., Greenpoint.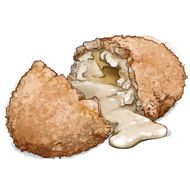 Supplì
The arancino's ellipsoidal cousin: a deep-fried rice croquette variously filled. The Roman word is derived from the French "surprise," alluding to what's inside. At Trapizzino, that would be everything from oxtail ragù to Pecorino and black pepper. At Trapizzino.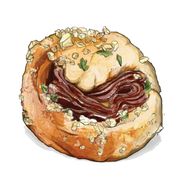 Stuffed Garlic Knot
The humble garlic knot, low dough on the slice-joint totem pole, reimagined as a kind of savory sticky bun. The pepperoni version is like a snack-size take on those delicious loaves of prosciutto or lard bread you get at old-school Italian bakeries. At Hold My Knots, Gansevoort Market, 353 W. 14th St.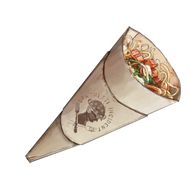 Spaghetti Cone
It's spaghetti. In a cone. And the amazing thing is that it's not only great fun to eat pasta like that, but because of some advanced law of spaghetti-cone physics, it's also neater and more efficient than eating it from a plate. At Spaghetti Incident, 231 Eldridge St.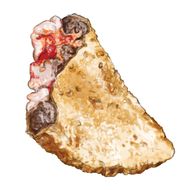 Fried Pizza
You know it as a fried calzone, pizza dough encasing cured meats and cheese and folded into a crescent. But the Neapolitans who run the new pizza joint Zia Esterina insist it's called fried pizza, and who are we to argue? A calzone, they explain, is always baked. At Zia Esterina, 112 Mulberry St.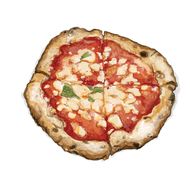 Pizza Montanara
A blob of pizza dough that starts out like any other blob of pizza dough but takes a detour along the way and ends up in the deep fryer.
It's then topped simply in classic Margherita fashion and finished in the oven. At Zia Esterina.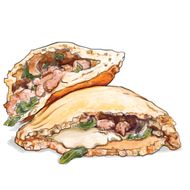 Panzerotto
Basically a downsized fried calzone (or, as they might call it at Zia Esterina, a baby fried pizza) from Puglia, traditionally stuffed with mozzarella and tomato sauce. At Mr. Panzerotto, 124 Macdougal St.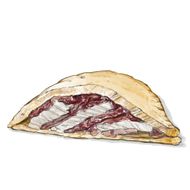 Tramezzino
Italy's answer to England's tea sandwich: various combos on spongy-soft crustless white bread, abundantly mayo'd, and typically cut into triangles for ease of eating with one hand while holding a glass of something strong in the other. Newcomer and Smorgasburg vet Tramezzini NYC takes a different approach, with two-fisted specimens that are so overstuffed and unwieldy half-sandwiches come in cones. (For a more traditional, daintier rendition, try Cipriani Le Specialità in midtown.) At Tramezzini NYC, 309 E. Houston St.
*A version of this article appears in the July 10, 2017, issue of New York Magazine.