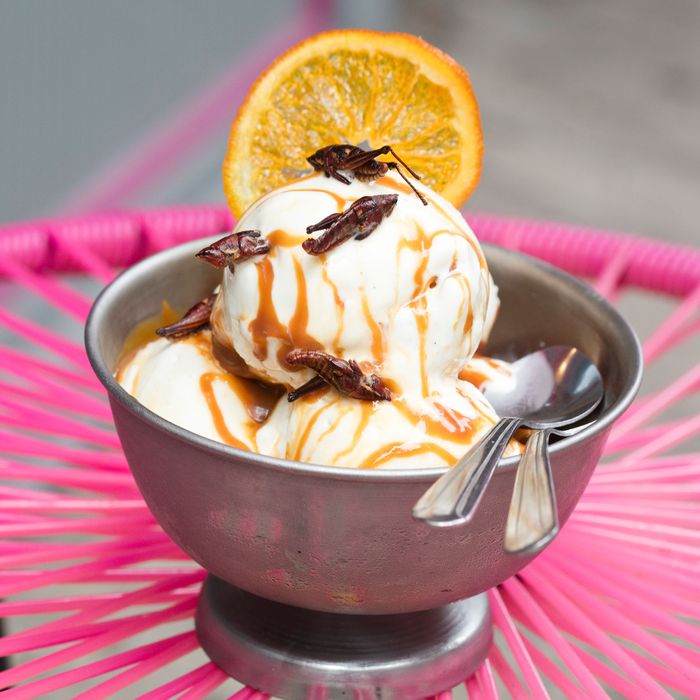 La Newyorkina's new sundae includes a cricket topping.
Photo: Melissa Hom
There are plenty of excellent places to eat ice cream in New York right now — but none, to Grub's knowledge, have ever offered bugs as a topping. This Sunday, that will change when Fany Gerson adds grasshoppers to the menu at La Newyorkina, her popular Greenwich Village shop that's inspired by the sweet flavors of Mexico. The chili-coated crickets debut as part of a $12 sundae with vanilla-chili ice cream, mezcal-laced caramel, and candied orange.
The grasshoppers add a nice crunch and subtle spice to the sundae, which is boozy and delicious. It's actually the perfect vehicle to try bugs for the first time, as the sugar rush and comforting nature of ice cream soften the blow. Gerson isn't hopping on the insect "food of the future" bandwagon for attention; this is a topping she grew up eating in Mexico. "In Oaxaca, eating grasshoppers is very popular. You eat them as a snack the way people eat nuts," she says. "We get a lot of requests for sprinkles, and this is a way to keep everything we do natural."
Sourcing the grasshoppers, though, wasn't easy. "I have been looking for a while at different distributors, and then there's a new one called Merci Mercado, which did all the legal work. It's a sustainable company and they're high-quality grasshoppers," she explains, adding, "Like any other protein, I've tasted bad bugs." This also explains why it costs $12.
This sundae will stay on La Newyorkina's menu through the end of the month, at least, and Gerson's planning on keeping the crickets available as a topping for the indefinite future — that is, if there's a demand for bugs.