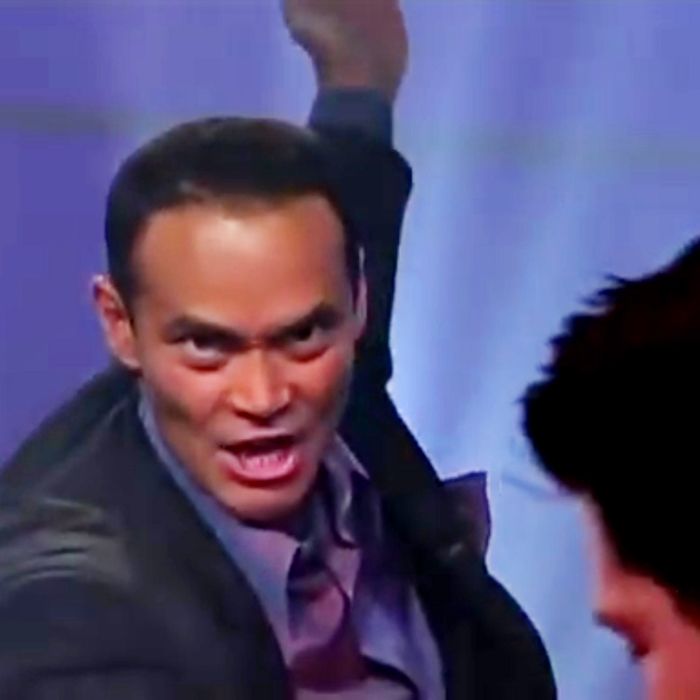 He's coming back for more.
Photo: Food Network
It seems like just yesterday that Stephanie Izard was churning her way to victory with chicken-liver ice cream on Iron Chef Gauntlet, and already there's another new Iron Chef spinoff. This one is called Iron Chef Showdown!
The new series is a "fresh take" on Iron Chef America, which sounds a whole lot like, well, Iron Chef America: Various Iron Chefs — including Jose Garces, Michael Symon, Alex Guarnaschelli, our old pal Bobby Flay, and current victor Izard — will duke it out in Kitchen Stadium for honor and for glory.
But here's the real news: Chairman Mark Dacascos is coming back! After handing over the reins to Alton Brown, who gallantly served as both host and chairman for Gauntlet, Dacascos will finally return to the kitchen to smolder once more.
As with Iron Chef America, Alton Brown is onboard as host, while new addition Jaymee Sire will make her Iron Chef debut as a floor reporter.
The series is set to premiere sometime in "fourth quarter 2017," and Alton Brown says we are going to like it.