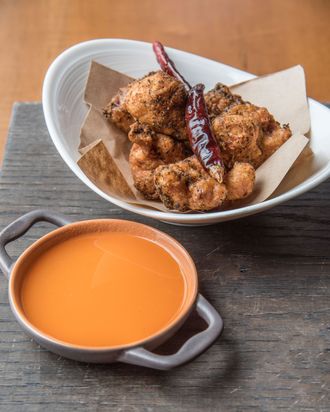 Hot chicken pakoras from Chauhan Ale & Masala House in Nashville.
Photo: Ron Melville
When chef Vishwesh Bhatt was planning the menu for the restaurant Snackbar, in Oxford, Mississippi, he immediately thought about the foods he ate growing up: collard greens, okra, pickles, and black-eyed peas — all staples of the American South. But Bhatt was raised in Ahmedabad, in west India. He says that when he moved to Mississippi in his 20s, he quickly noticed the similarities between the cuisines of his old home and his new one. The ingredients, Bhatt explains, were exactly the same, "just presented in a slightly different way."
At Snackbar, which opened in 2009, he was able to finally explore that connection further: He experimented by seasoning fried okra with chaat masala, and offered dishes like garam masala succotash, quail tikka masala, and black-pepper-fried catfish. "It totally resonated with guests," he says, "and it was foreign to neither of us."
From an historic and geographic standpoint, the pairing of these cuisines makes a lot of sense: Warm climates make it easy to grow crops like okra, chiles, and rice. And in the late 18th century, at least according to lore, former British colonists from the British East India Company settled in the American South, in turn leading to the invention of dishes like Country Captain chicken, a stew built around the complex flavors of the spice blend garam masala.
In other parts of the American South, chefs have made discoveries similar to Bhatt's, combining the culinary traditions of their Indian heritage with the regional particulars of the southern setting, producing food that is both astonishingly original and deeply appealing.
Take hot chicken. In the hands of Maneet Chauhan, chef/owner of Chauhan Ale & Masala House, in Nashville, the bird is dredged in ginger, garlic, garam masala, Kashmiri chiles, and chickpea flour, then fried into a hot chicken pakora. Inspiration, for her, arrived in the form of the classic southern meat and three (a meat served with three side dishes). "I thought, 'This is just like a thali.' There is a protein, there is a starch, and there are some vegetables. So I started translating, and making an interpretation of what the food of this city was, through my lens." She even does her own chef's-choice meat and three at the restaurant, with sides like raita and daal. "Both cuisines are taking these pedestrian ingredients found in their environment, and elevating them through spices," she says. "It's this translation of love through food — they're the kind of cultures where you say, 'I can't have another bite,' and yet another serving ends up on your plate."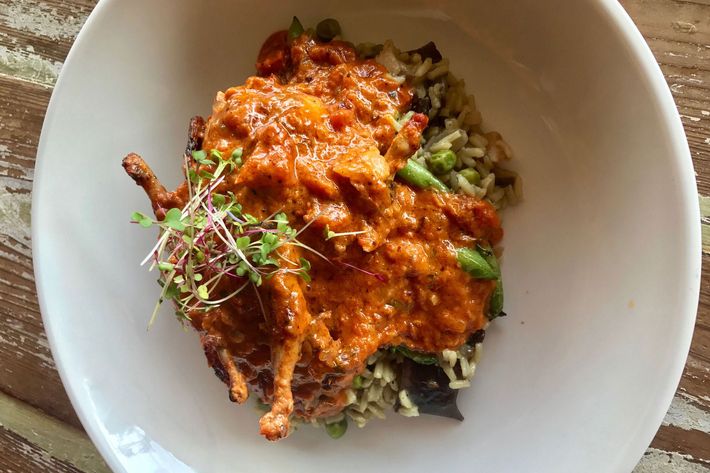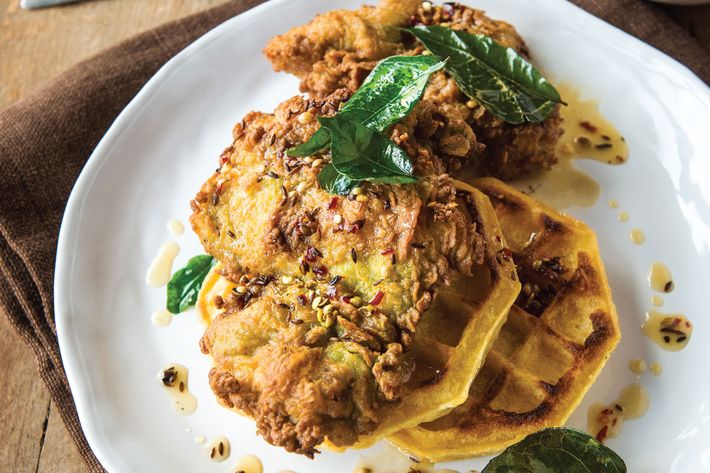 This kind of fusion — which is built on the idea of harmony between the cooking styles, instead of mashing-up disparate elements — is on display at an impressive number of restaurants: Pondicheri in Houston serves fried chicken that's marinated in yogurt masala; Chai Pani, which has locations in Asheville and Atlanta, makes chili cheese fries with paneer, cilantro, and tomato chutney; Nasha, in Austin, offers a tikka con queso.
Also in Austin, where barbecue is a religion unto itself, Deepa Shridhar runs a pop-up dinner series called Anjore. And she's working on her own version of Texas barbecue, a low-smoked brisket rubbed with fermented chiles, sugar, and chai. "Usually when you think Indian and barbecue, you immediately go to tandoori, but I wanted to go a bit deeper than that," she says. "Both India and Texas have a lot of smoky, deep, dark flavor profiles in their cuisines, so barbecue works as a connective tissue.
The connections, Shridhar says, are about more than than simple similarities in ingredients. "This deep sense of hospitality really rings true in both cultures," she says. "Everything we do — both as Indians and Southerners — is so rooted in tradition." She adds that she found it easy to meld the two cuisines, as both "have complicated flavors, but not a lot of fuss. We do put in some effort to make dishes look visually pleasing, but the rule of thumb is generally, if it tastes good, that's what matters before everything else."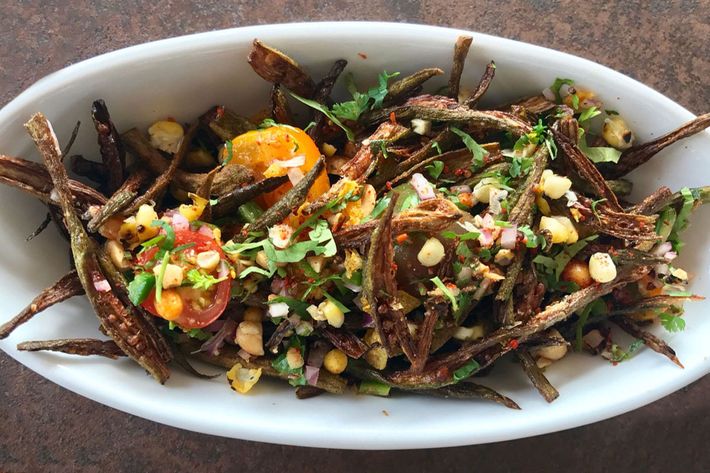 As seamless as the pairing can be, it also marks a definite change in the way Indian chefs and owners approach American diners. As recently as the late '90s, Indian restaurants opening in the U.S. were designed less to reflect the heritage of the chef, and more to simply appeal to generalized Western tastes. "It was a business. It wasn't a craft, it wasn't a profession," Chauhan says. Now, though, "We are taking being a chef as a profession. People like me are proud of the cuisine we have grown up with, but we have also found a home in the South. We want to relate our food to that experience."
Shridhar, who moved to the U.S. from Pune in west India when she was 4, agrees. "I am Indian-Texan, it's not even something I hesitate on," she says. "I have these two identities, and denying either of those in my cooking seems wrong and inauthentic."
Embracing, and combining, that heritage is also the basis for the cookbook My Two Souths. Asha Gomez wrote the book as a result of growing up in Kerala and living in Atlanta. She also hosts a regular dinner series where one of her most popular items is catfish pickle that's marinated in turmeric, Kashmiri chili powder, brown sugar, and vinegar. "I was visiting Mississippi," Gomez says, "and I realized that pickling was a strong tradition that Indians and southerners both had in common."
Between 2000 and 2010, the Indian communities of Florida, South Carolina, Tennessee, and Kentucky grew by more than 80 percent, according to New America Media, and if that staggering growth — not to mention the effusive praise for this style of cooking — is an indication, hot chicken pakoras and okra chaat could just be the jumping-off point to a much richer cultural melding. "Food is an evolution. My cooking is a progression of who I am as a person, and the places I have been fortunate enough to call home," Gomez says. "I hope that 20 years from now my son is making corn bread with cardamom, and it feels more like the norm."