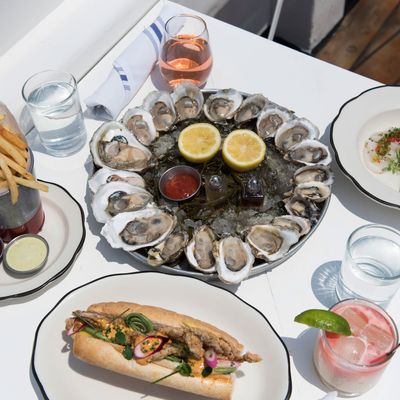 A very solid summer spread.
Photo: Liz Clayman
Good news for fans of the excellent, perpetually crowded Grand Banks (which, even on a recent Monday at 4 p.m., was slammed): The team behind the blockbuster oyster-bar-on-a-boat have two new projects opening that promise to retain all the charm of the original.
First up is Island Oyster on Governors Island, which is now open for drinks. Last winter, brothers and GB co-owners Alex and Miles Pincus applied to a call for bids for a restaurant on the island. "We weren't expecting to win the bid, so it was very surprising," Alex says. "But it's an amazing opportunity — the site is stunning. You look at both rivers, you see all of downtown, the harbor, the Brooklyn Bridge." The island used to be a 16th-century hunting-and-fishing camp for the Lenape Indians, and the brothers had that fishing camp in mind when they conceptualized the 32,000-square-foot spot, a place where you can eat oysters and stare at the rivers. The pair teamed with Eric Cheong to create what Alex calls a pavilion–beer garden–oyster bar hybrid. As Alex explains, "Everything is oriented explicitly toward the water."
As for food service, which will debut later this month, all the oysters are sustainably harvested. And, like at Grand Banks, the menu is by Kerry Heffernan, so you can order dishes like a Debragga & Spitler burger, a lobster roll (among the best lobster rolls in NYC), and seaweed-salt fries with sage aïoli.
That, however, is just one project. The other is Pilot, which, like Grand Banks, is aboard a boat. Docked at Brooklyn Bridge Park's Pier 6, this boat is a 140-foot wooden racing schooner built in 1924 that required lots of repairs, but has incredible history: It's supposedly the longest-serving pilot ship in the U.S. and a onetime research vessel that Jacques Cousteau sailed; it has twice circumnavigated the world. It's also now eligible for the National Register of Historic Places.
Miles and Alex are natives of New Orleans, so the brothers have tried to bring some of that city's influence onboard at Pilot. That means you'll see a soft-shell-crab po'boy, and an attitude that encourages a summery, all-day-drinking-beer-on-a-boat feel. To that end: "We're always drinking watered-down beer," Alex says. "I drink beer on ice — it's a New Orleans thing." If that doesn't sound like your thing, know there will be cocktails, such as the Spirit Animal — which blends rum with Aperol, coconut, and strawberries — and pair it with squid with avocado, arugula, charred tomatoes, and pimentón oil.
Island Oyster is open for drinks now, and Pilot is scheduled to open later this month (though the exact date is something of a moving target right now). In the meantime, here are some food shots to get you ready.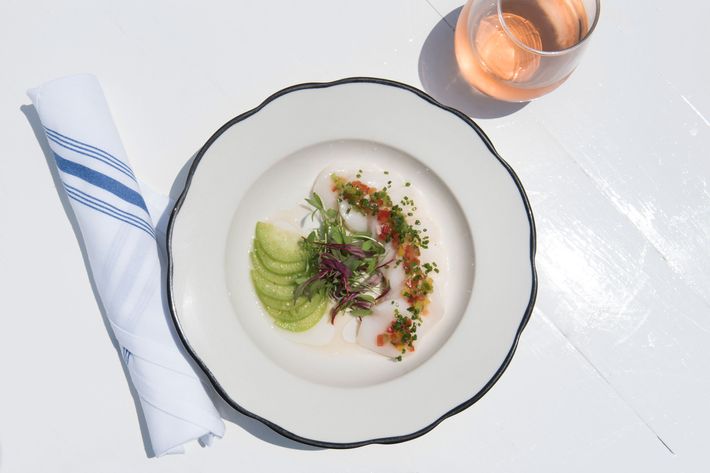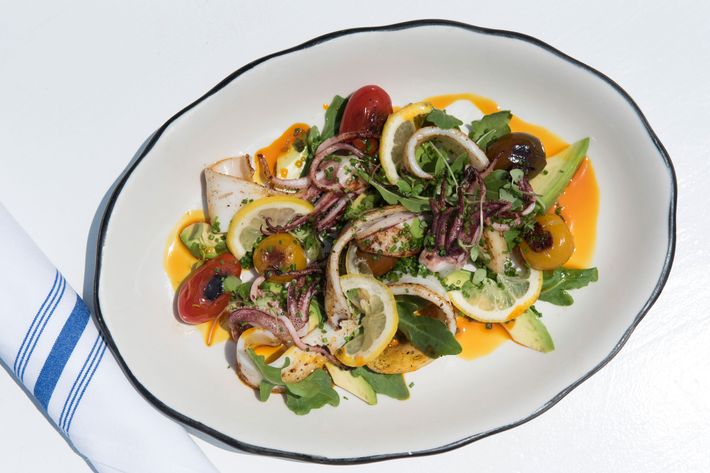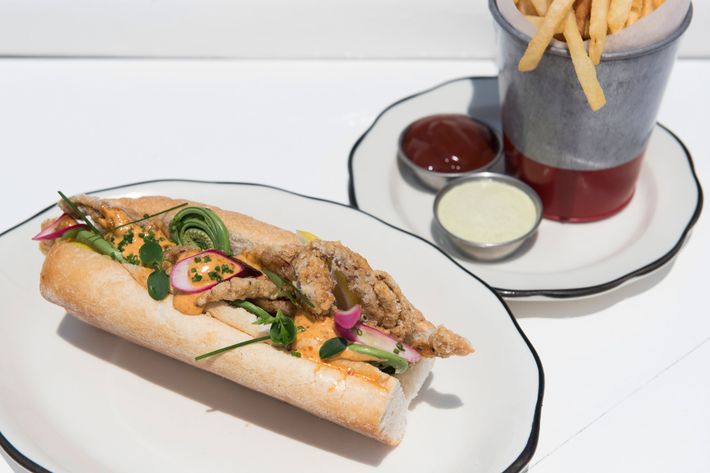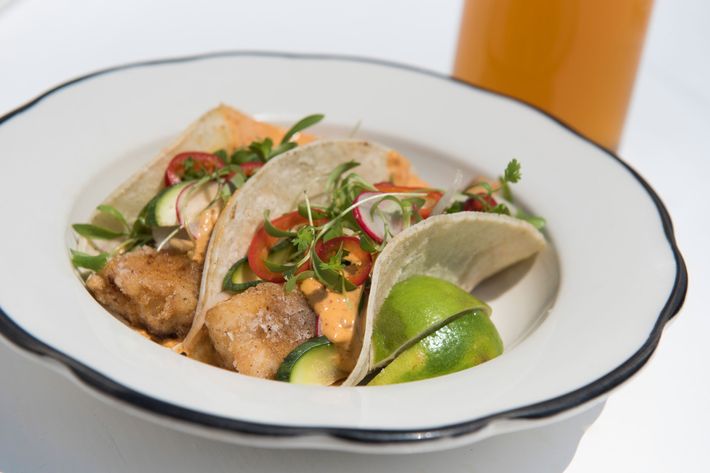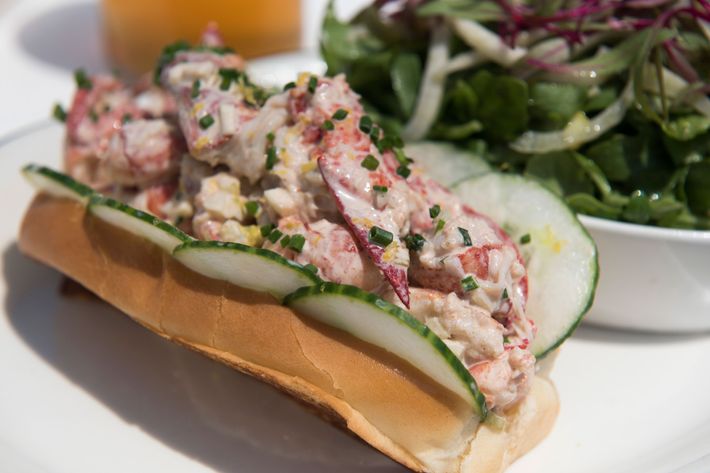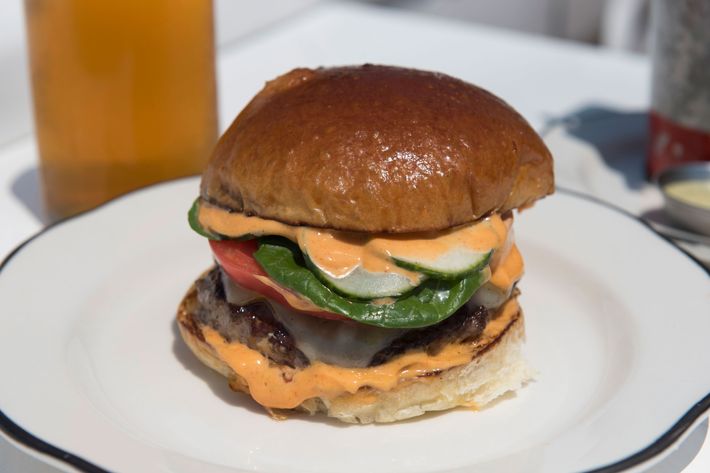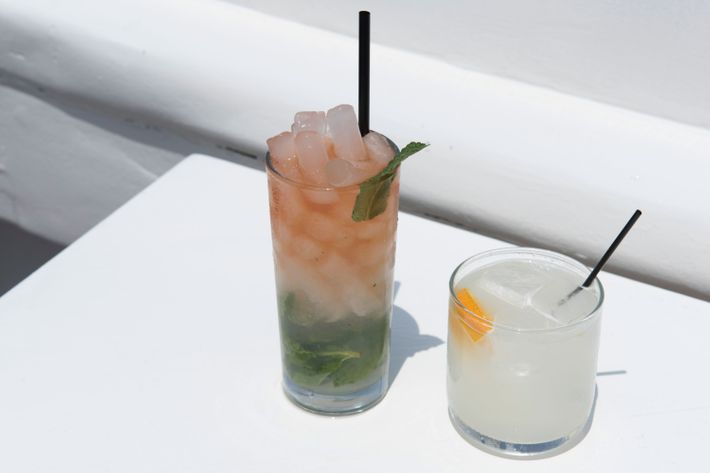 Island Oyster, 10 South St., the Ferry Landing at Governors Island; 917-268-0200
Pilot, Pier 6, Brooklyn Bridge Park; 917-810-8550