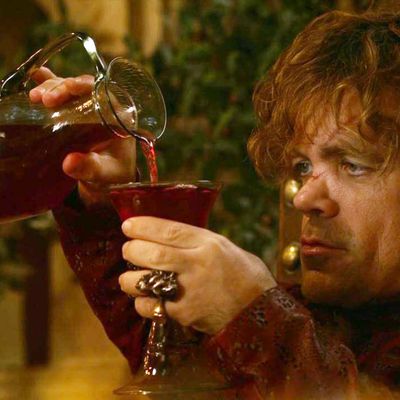 The biggest spectacle in premium-cable television is back. This Sunday at 9 p.m, Game of Thrones returns with the premiere of its seventh (and second to last) season. Some things are certain: Ice zombies will kill lots of people; there will be dragons; and you are possibly tired of waiting to find out which main character will die next. Yes, you can always watch this at home using your friend's HBO Go log-in, but you can also head out and take in the entire spectacle with a crowd. That's because plenty of places are keeping the tradition of viewing parties alive. Here, where you can watch Game of Thrones in New York's bars and restaurants.
White Gold Butchers
April Bloomfield's Upper West restaurant will host weekly viewing parties (tickets are $55, tip included) with a three-course, meaty meal with sides and desserts. Utensils are allegedly not allowed, and episodes will screen at 10 p.m. sharp because co-owner Jocelyn Guest doesn't want to miss the show.
Gallery Bar
Watch the show on this Bed-Stuy bar's giant projector. They'll serve beer specials and the full food menu.
Double Wide Bar & Southern Kitchen
Snack on queso and buffalo-chicken strips while watching the show.
Halyards
Shoot a round of pool before the show, and sip on old-school cocktails while Petyr Baelish acts all kinds of sketchy.
The Way Station
This is the party for all the Thrones fans who are also beer nerds. It's hosted by Ommegang, features its last beer, Bend the Knee, along with older brews, and there will be trivia, cosplay, and the Manimals performing their Thrones concept album "Seven." The party starts at 8 p.m.
Bowery Bay
If you're in Astoria, this Ditmars Boulevard pub will host weekly viewing parties.
Bar 43
The Long Island City sports bar will commandeer its private room, playing the show on every television screen and cranking the volume up. There will be drink specials, too, and large groups can make reservations.
Keg & Lantern Brewing Company
The Greenpoint brewpub will show every episode in its backroom.
Junoon
For a fancier night, the modern Indian restaurant will outfit its Patiala Lounge with projectors and serve cocktails and food inspired by the show.
The Bedford
The Williamsburg bar will be screening the show, and if you're so inclined you can post up as early as 3:30 p.m.
VNYL
The Union Square cocktail bar and lounge has outfitted its dining room with a big projector screen, and will serve food and drink specials for fans.