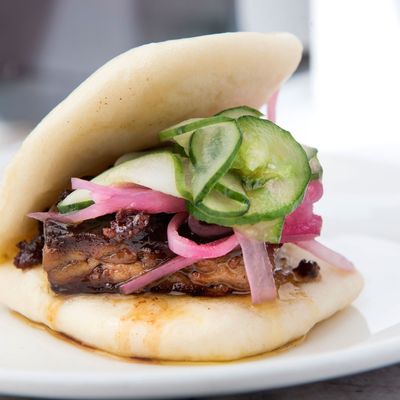 Fung Tu's foie-gras bao with lap-cheong marmalade.
Photo: Liz Clayman
Another one bites the spice dust. After four years on Orchard Street, nouveau Chinese-American restaurant Fung Tu will serve its last kohlrabi salad on August 31. During its tenure, the Lower East Side spot was home to some of the city's best and most creative Chinese food. Chef Jonathan Wu, who once worked at Per Se, mined his upbringing to mix and match ingredients to often delicious results, as in the "China-quiles" (yucca chips with Sichuan pork sauce), chow-fun noodles with chorizo, and a pork-belly egg roll.
After a quiet start, it earned significant praise from New York's Adam Platt, Eater N.Y.'s Ryan Sutton, and (eventually) the New York Times' Pete Wells. Others, like cookbook author Kian Lam Kho, credited it with being a trailblazer in bringing a more contemporary take on Chinese food to the city's restaurant scene. Still, it's not clear that the restaurant ever found enough of an audience, and it was rarely busy when Grub popped by. The restaurant had also dealt with its share of hiccups. In 2015, the restaurant was forced to close and then operate without gas for several months. And earlier this year, talking about the effect of President Trump's election on business, Wu told Grub Street that he had reworked his menu to be more affordable and accessible.
Fans of Wu's cooking shouldn't be totally disappointed, however. One of the restaurant's co-owners is Wilson Tang of Nom Wah fame. In September, he'll reopen the space as Nom Wah Tu with Wu in the kitchen, and Fung Tu beverage director Sophie Maarleveld pouring drinks. It sounds like it could be a slightly fancier version of Nom Wah, where the menu mixes traditional dim sum with Wu's style of cooking.