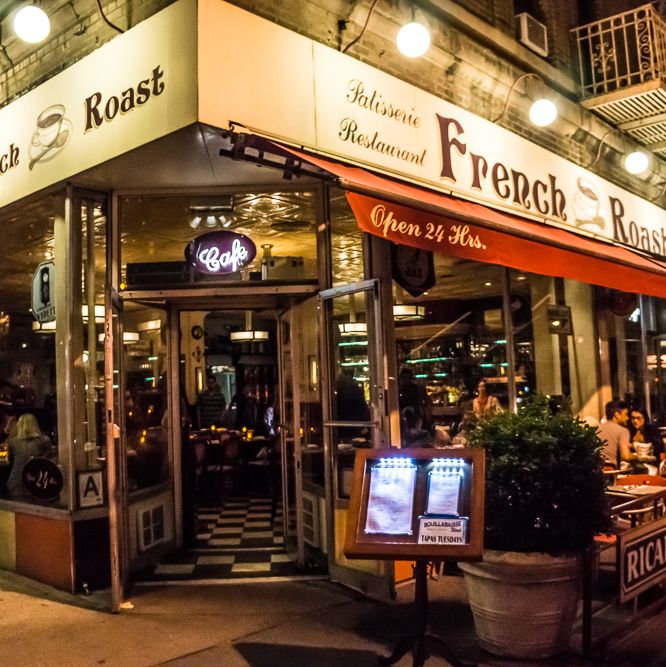 Another blow to New York's history.
Photo: John Fraissinet
French Roast on Sixth Avenue and 11th Street, which first opened in 1993, is shutting down at midnight tonight, according to members of its staff. The closure is the latest blow to the once-ubiquitous cottage industry of diners in the city — let alone 24-hour venues — and a continuance of the sad trend of persistent storefront closures plaguing even hallowed Greenwich Village.
French Roast was that rare spot in the city where cops, celebrities, first dates, parents and kids, backpackers and almost-famous traveling musicians from the nearby Larchmont Hotel, vintage neighborhood cranks, club kids, college students, and new-arrival immigrants would all mingle with a transformative chemistry that bordered on alchemy.
Surprisingly, given the fishbowl quality of its glass walls, it was also a celebrity hangout. Over the years, famous regulars have included Alec Baldwin, Mel Brooks, Cherry Jones, Mo Rocca, and Uma Thurman. Sean Lennon dined and drank there almost every night after midnight, along with the city's most-regular regular, a man-about-town who would pull up in a burgundy limo, hand out solid brass business cards, and wait patiently as the staff would carry a chair out of the kitchen especially for him to sit at the bar. I was once bellied up to the bar early one morning when the only other people there were Andrew Garfield and Emma Stone having an argument. And an elderly regular reminiscent of Jack LaLanne routinely challenged the staff to arm-wrestling contests, almost always beating them. It was a surreal place.
The most French offering at French Roast was its vie bohème, but it's hard to say if French Roast was a bistro, a diner, a coffee shop, or some combination of all three. In recent years, it tumbled through a cavalcade of hit-or-miss ideas that tilted toward misses, including all-you-can-eat moules-frites, miso gnocchi, a stinky-cheese festival, and chicken molé on the menu. In 2015, it finally put a lock on the front door and stopped being a 24-hour venue (it restored 24-hour service recently, but many night-owl regulars had moved on). Earlier this year, after a new managing partner joined, it ripped out its grand brass bar and replaced it with an undulating experiment in brushed aluminum.
Tonight's last call will be belted by Peter Coleman, a bartender who would've celebrated seven years with the company in August and who once narrated an audiobook by mimicking regulars' accents and affectations. As he has every Tuesday night for years, longtime regular Johnny Dark, a lean punk-rock vestige prone to wild rants about, say, Beverly D'Angelo cheating him out of rent money in the 1970s, will strum his guitar in a makeshift concert.