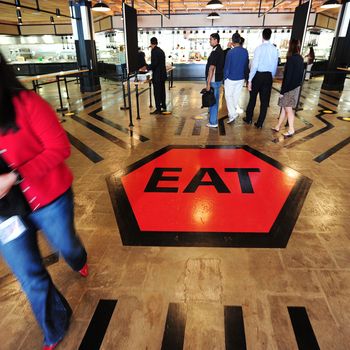 The cafeteria at Facebook's California headquarters.
Photo: Robyn Beck/AFP/Getty Images
While Mark Zuckerberg continues to tour the country, bonding with the real America, cafeteria workers at Facebook have unionized to push for better wages and more affordable health care. More than 500 cafeteria workers — who are employed by food-service contractor Flagship Facility Services, not by Facebook itself — elected to join Unite Here Local 19, making them the latest group of Silicon Valley food-service workers to do so.
"Their quest for a better life in Silicon Valley is what moved them to unionize," Enrique Fernandez, the union's business manager, tells the Mercury News, noting that the current pay isn't enough for workers to keep pace with the rising costs of the area.
According to a survey that Unite Here conducted this spring, cafeteria workers on Facebook's campus made $18.81 per hour, which is simply too low to live on in an area where prices have become so inflated. A profile in The Guardian of a husband and wife who both work in Facebook's cafeteria shows exactly how far that wage doesn't go in Menlo Park, where Facebook is headquartered. "Back in the day, [the wage] would have been a great number," Victor, the husband, told the paper. "[B]ut because of Facebook moving in, everything is so expensive. I have to get payday loans sometimes. We barely make it." The portrait the piece paints of life as a Facebook service contractor is pretty grim, with contract service workers occupying a sort of underclass on the campus.
"Our vendor workers are valued members of our community," a Facebook spokesperson said, noting that, while actual negotiations will be between the workers and Flagship, the company is "committed to providing a safe, fair work environment to everyone who helps Facebook bring the world closer together, including contractors," and that that commitment wouldn't change, "regardless of union status."
Flagship — which, like Facebook, did not oppose the union drive — declined to comment specifically on its policies for workers on the Facebook campus, but told The Guardian that the company "looks forward to a positive and productive relationship with the union."
In August, the union hopes to start negotiating a contract with higher wages, though how high, exactly, is up for debate. As Fernandez asks, "The million-dollar question in Silicon Valley is what is a living wage?"