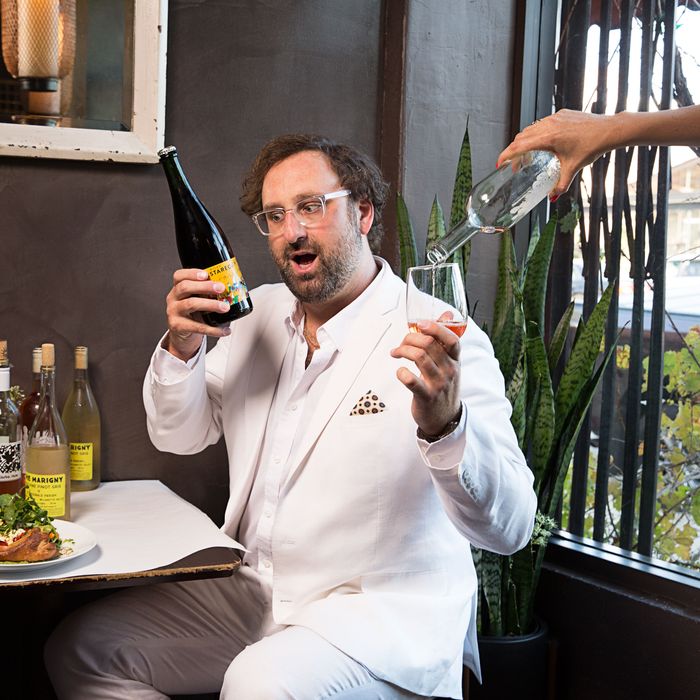 At Elf — his favorite restaurant in L.A.
Photo: Bradley Meinz
Long before Eric Wareheim had a scene-stealing role on Master of None, he performed comedy with Tim Heidecker, and this month, they kick off the Tim and Eric 10th Anniversary Awesome Tour (and in September, their horror show Bedtime Stories premieres on Adult Swim). Wareheim, like his fellow Master of None co-stars, is serious about food and wine — so much so that he created his own, Las Jaras Wines. This past week, he enjoyed fried chicken and burritos in Los Angeles, while celebrating the Fourth of July with Krispy Kremes and late-night burgers. Read all about it in this week's Grub Street Diet.
Thursday, June 29
I'm deep in rehearsal mode for the Tim and Eric 10th Anniversary Awesome Tour right now. Day in and day out, I'm singing and dancing, dressed in silver spandex, so eating yummy things is my reward at the moment.
I've been making soft-boiled eggs in the morning. (From Cookbook, of course. The only place to get the most perfect meat and produce in Echo Park. Each item is specially curated for maximum flavor and freshness. Marta is my queen, and I'll worship her for eternity.) I toasted a piece of bread, cut 'em up into a li'l-soldier shape, and started my dipping!
For lunch, I had a huge juice with kale and beets. Last night was rough and I needed a detox. So L.A., I know.
For din-din, I went to a crazy-good Peruvian spot called Pablito's Kitchen. I first tried this place with my Peruvian friend Cynthia, and she gave it a huge two-thumbs-up review. I'm talking really fresh and wonderful lomo asado (steak and fries with a brown gravy), mixed ceviche, papa a la Huancaína (potato with a special mustard sauce), and of course the wild-seafood fried rice.
Post-dinner drinks with friends. We popped open a few bottles of Las Jaras rosé and ascended into wine heaven on a warm L.A. night.
Friday, January 30
Woke up early to review a few cuts of my new series, Tim and Eric's Bedtime Stories. The show is pretty frightening, so I needed some good old-fashioned comfort food. That means Night + Market Song! My typical order is the world-famous fried chicken, some crab fried rice, and string beans. This place is everything to me. Fresh, lively street-style Thai served up with the best in natural wine. The combination of the two makes me do backflips down Sunset Boulevard in front of all the hipsters trying to get a table.
Before dinner, I had a few glasses of Broc Cellars Rosé at Bar Bandini. This place is a mecca for natural wine in a city that has very few cool bars.
Then, I went across the street to my fave restaurant in town, Elf. (Wolvesmouth is a tie, actually.) Elf is an incredible, vibe-y vegetarian spot with a Moroccan twist. I slammed some tasty Cruse sparkling wine while nibbling on an avocado-tahini purée with roasted garlic and freshly made pita. For the main course, I had the roasted mushrooms and the tomato tart. Every bite in this spot feels blessed by a magical garden fairy. I've been going here for ten years, ever since I moved to L.A. The menu has evolved in a slow and sophisticated manner. Makes being vegetarian fun.
Saturday, July 1
Kitchen Mouse with my sister and niece. My sister is raising her kid vegetarian, and luckily, we live close to the coolest veggie spot in Highland Park. I always have to get the vegan chilaquiles. This place would make any meat boy go veggie.
Saturday night was crazy. My crew headed to the Hollywood Forever Cemetery for a screening of Dirty Dancing. We brought enough natural wine to get the whole place lit. Cheese and meat from Cookbook, Jen brought a fish spread and fresh figs, and Bert brought delicious Cuban treats from Gigi's.
The place erupted into a full dance party for the closing scene, followed by a beautiful fireworks show.
Later that night, we had a swim party and decided we needed chicken wings, so we Postmated Comfort L.A. This spot is freaking fantastic. They use Mary's organic chicken and have a special sweet-and-spicy sauce they serve with the wings. We ordered all the sides as well, including the collard greens and banana pudding. Yes, of course we all pretended to be dead when the delivery man arrived, freaking the fuck out of him and ourselves at 3 a.m.
Sunday, July 2
Beach Day! Golden Bird fried chicken on the beach. This was a new level for us. We go to the beach every Sunday, but this was the first time we paired that experience with my favorite fried-chicken place in L.A. They double-fry their chicken, giving it a super-crisp, thick crust. We paired that chicken with sparkling rosé from the Loire.
Sports Meal (our reward dinner for taking down so many ROMLs at the beach) was at El Tarasco in El Segundo. A perfect wet burrito after a day in the sun. This place is like a dive bar with your classic Mexican favorites.
Monday, July 3
After that weekend, I needed to get some greens in my system! M Café's spicy tuna roll and the 2 Deli special: peanut kale and soba noodles. This is the best way to start a new week. Power food that tastes so yum.
Every Monday, I have a night with my friend Sam called "First Fish." We pretend that if we get there early, we get the freshest catch. So we headed to our local spot, Sushi Gen. I always start with chutoro, uni, snapper, and some soft-shell. Otokoyama, please!
Tuesday, July 4
Fourth of July! I started the day with an M Café salad that I didn't eat yesterday. Not very exciting, but I knew the rest of the day would take me to the next level.
Summer Slam pool party: Jason made his amazing tacos. The secret is getting the tortillas from El Azteca and using that Niman Ranch meat. Other highlights were Krispy Kremes with American flags drizzled on them. And a badass smoked-fish spread I created from, where else, Cookbook.
I watched the neighborhood explode with fireworks, then went back to my place to grill burgers at 2 a.m.! Chef Dave, from Okonomi, worked that grill like a boss.