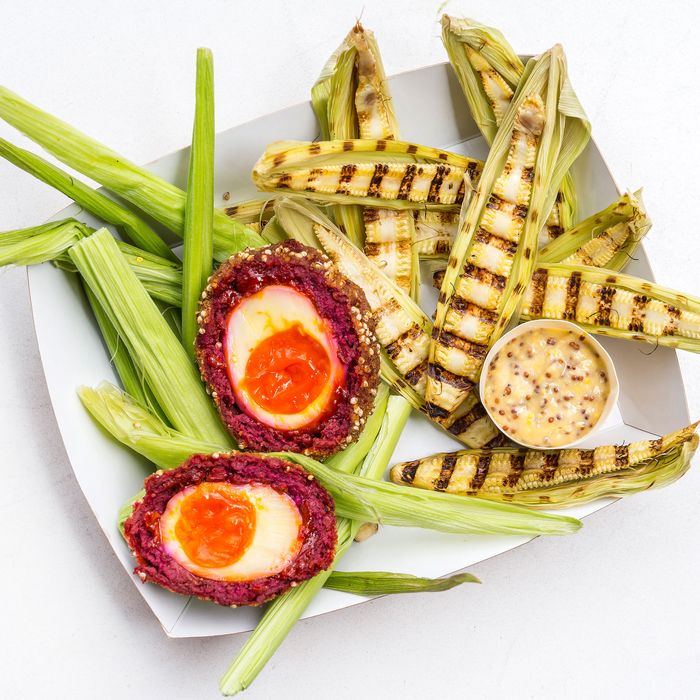 "Scotch Egg Roulette."
Photo: Noah Fecks
While people queue up for the Cronut at Dominique Ansel Bakery in Soho, Ansel has wisely turned his West Village location into a creative test kitchen of sorts, where he can collaborate with New York chefs to create one-off, more labor-intensive specials. These dishes have included an ice-cream taco and a Korean French-dip sandwich, and now, Ansel has enlisted Blue Hill's Dan Barber for what they're calling "Scotch Egg Roulette."
Their take on a Scotch egg is made with farm eggs that are wrapped in beet sausage and coated in a malted millet crust. Here's the twist: Some of Blue Hill farm's pasture chickens are fed a diet that includes red peppers, which means one out of every few dozen yolks is bright red. You won't be able to find out the color of your Scotch egg until you eat it, so there's a surprise "roulette" element.
"We don't really know which eggs have red yolks, so I think we'll all be a bit surprised," Ansel says. "I've always wanted to collaborate on something with Dan. He and his chef Adam came down from the farm to the West Village over the past few weeks to test out different recipes, based on what was in season for the summertime from the farm." On the side, they're serving fresh baby corn still in their husks, sliced open and grilled, and corn mustard for a little added kick.
It costs $16.50 and is only available this Friday to Sunday at Dominique Ansel Kitchen, from 9 a.m. until they sell out.