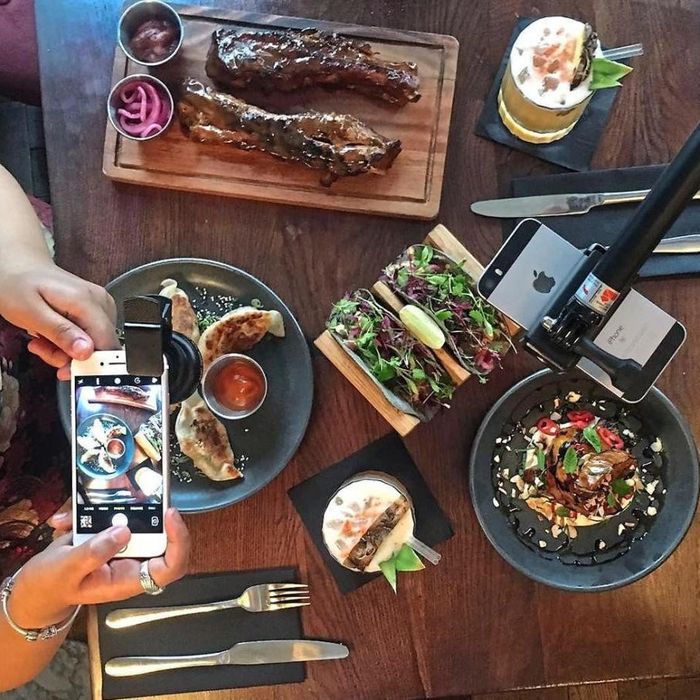 "They're almost done. Just give them five more minutes."
Photo: Dirty Bones
A restaurant in London that you should stay away from is now offering diners free "foodie Instagram packs" with their meals. All a guest has to do is ask, and an employee of "NYC-inspired" mini-chain Dirty Bones' new Soho branch will be required to trot out a kit that includes "a portable LED light, multi-device charger, clip-on wide-angle lens, tripod, and a selfie stick." Other diners are then obligated to punch them both in the face.
In a press release, the restaurant notes the "importance of Instagram in present-day foodie culture" (i.e., free advertising by guests it sucks to dine next to), and therefore urges people who fall into the category of "very active on social media" to Instagram away to all their followers while eating (i.e., continue providing more free advertising). "We wanted to put together something that made it easier to get that perfect shot regardless of the lighting or time of day," a rep for Dirty Bones told Mashable. "It's key for us to make sure that people are getting the best possible shots of all our dishes and drinks."
That line might induce a tiny amount of vomiting, but it isn't surprising. This entire location — Dirty Bones' fourth — was built "specifically" to accommodate Instagram. Obnoxious platitudes like "Good Vibes Only" and "It Was All a Dream" adorn the wall in neon lights. There is a very large bookcase. The menu changes based on "what's trending," so it reads like a Who's Who of Instagram hashtags: fish tacos, a mac-'n'-cheese burger, chicken and waffles, an avocado eggs Benedict. The bar will serve you a pink cocktail with rainbow sprinkles around the rim, and the space itself apparently aims to "re-create the glamour of Studio 54."
"We're all about helping people capture that perfect shot," restaurant founder Cokey Sulkin felt he needed to explain to Mic. So far, the Instagram kits are only at the Soho location, but Dirty Bones hasn't ruled out a chainwide expansion. There's also regrettably no end date in sight for the promotion.