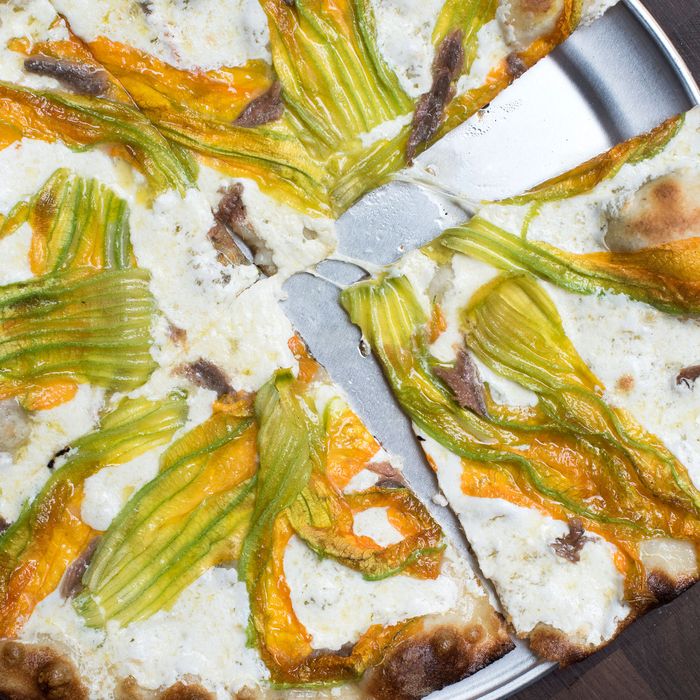 Squash-blossom pizza from Martina.
Photo: Liz Clayman
Danny Meyer is speaking Italian. The prolific restaurateur will open two more Rome-themed establishments in the Redbury New York (formerly the Martha Washington Hotel), already home to his restaurant Marta. The first, a café and sandwich shop called Caffé Marchio, is slated to open by late August, while the second, a wine bar called Vini e Fritti, will debut in September. The two businesses will be connected to Marta by a corridor, and Meyer tells the New York Times that he sees them "like a Roman piazza."
Marchio's coffee will unsurprisingly be provided by Joe Coffee, the New York micro-chain Meyer recently invested in. It will serve coffee granitas and shakeratos, a cold espresso drink, alongside sandwiches and pastries like glazed cornetti. The 15-seat Vini e Fritti will be all about Italy's aperitivos and fried food like fritto misto.
That's not all Meyer has in the works. This August, he's also opening a fast-casual pizzeria in the East Village with Nick Anderer, the original chef of Marta and Meyer's other Italian restaurant, Maialino. Called Martina, the counter-service restaurant will serve affordable pizzas alongside snacks like meatballs and potato croquettes, wine, and soft-serve gelato. Between the coffee shop, wine bar, and pizzeria, could Danny Meyer's version of Eataly really be that far behind?