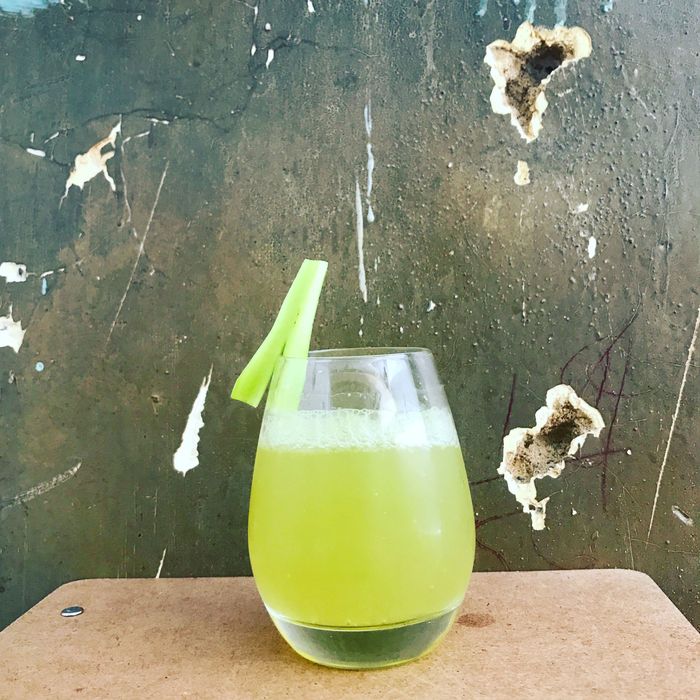 Summerhill's owner advertised one of her cocktails in front of
faux
"bullet holes."
Photo: Courtesy of Summerhill
On Saturday, residents of Crown Heights held an open forum outside the controversial new bar and sandwich shop Summerhill. Owner Becca Brennan fanned the flames of gentrification and cultural appropriation in the neighborhood, after glibly advertising a wall riddled with "bullet holes" and 40-ounce rosé in paper bags. Summerhill was open for business during the protest, with Brennan herself making drinks and, reportedly, a dozen or so customers inside. But after such a visible and heated backlash, it seems unlikely that the bar will be able to continue long with business as usual.
During the forum, various residents took turns sharing their feelings about Summerhill. One unidentified man, Gothamist reports, said, "I'm a resident of Crown Heights. I'm a black man. I'm offended that people are marketing our hurt, our pain, our struggle." Speaking to accusations that Brennan is profiting off of the majority-black neighborhood's difficult history, longtime resident Toya Lillard said, "People of color are not props or backdrops."
A list of demands was presented to Brennan by the protesters, including a public apology, removal of the "bullet holes," and attendance at Crown Heights Tenant Union meetings. Two publicists worked the crowds, taking notes and passing out copies of a version of a statement that was released to media outlets on Friday. But Brennan herself did not interact with the crowd. Chants of "Bye, Becky" were shouted, and the organizers reportedly are no longer interested in working with Summerhill. Instead, the organizers say they'll continue showing up outside the bar to talk about issues of concern.
Not everyone present over the weekend was there to protest. Gothamist reports that a black man who identified himself as a Summerhill cook took the podium, noting the white people in the crowd, and said, "It's the gentrifiers going off on a gentrifier." The publication also quoted a commercial landlord and nearly 30-year neighborhood resident, Frank Morris, who called the outcry "hogwash" and said of Brennan, "[S]he has young black kids here every day helping them with their homework, young black kids cleaning her windows, and black people coming in here and having a good time." Protester and local business owner Tracey Reid, who is a tenant of Morris's, shot back that he rented her "a store for 18 years without heat or hot water."
Restaurants have long been at the center of the gentrification conversation, prompting "there goes the neighborhood" refrains when places selling trendy brunch dishes and $6 lattes crop up. Eddie Huang took chef Marcus Samuelsson to task in the Observer, pillorying his memoir for its take on Harlem and saying of his restaurant there, Red Rooster, that "his talk of elevating soul food is an absurd joke." But that was a year and a half after the restaurant opened, and Huang was accusing Samuelsson of acting like he was bringing something to a neighborhood that was doing just fine without him. Summerhill, meanwhile, engaged in a high degree of thoughtless cultural co-opting and is now defined by that.
This backlash has also happened at the same time as similar protests aimed at a café, Weird Wave, in the Los Angeles neighborhood of Boyle Heights. Like Crown Heights, the historically Hispanic community is experiencing rapid gentrification. Last Wednesday, after weeks of protests, the café was vandalized and its front door smashed by an unidentified individual. Then over the weekend, it was vandalized again, when one of its front windows was broken. It's not clear, as of yet, if either incident is linked to the protests. But the owners of Weird Wave tell the Los Angeles Times that they've seen a surge in business, attributing this to media attention. Questions of responsibility toward these communities aside, though, Weird Wave didn't offend with insensitive-at-best advertising. There are no bullet holes in its walls. It seems unlikely that Summerhill will be so lucky. It's been marked, before it can establish a reputation for anything else, as an embodiment of clueless cultural insensitivity and New York's out-of-control gentrification.