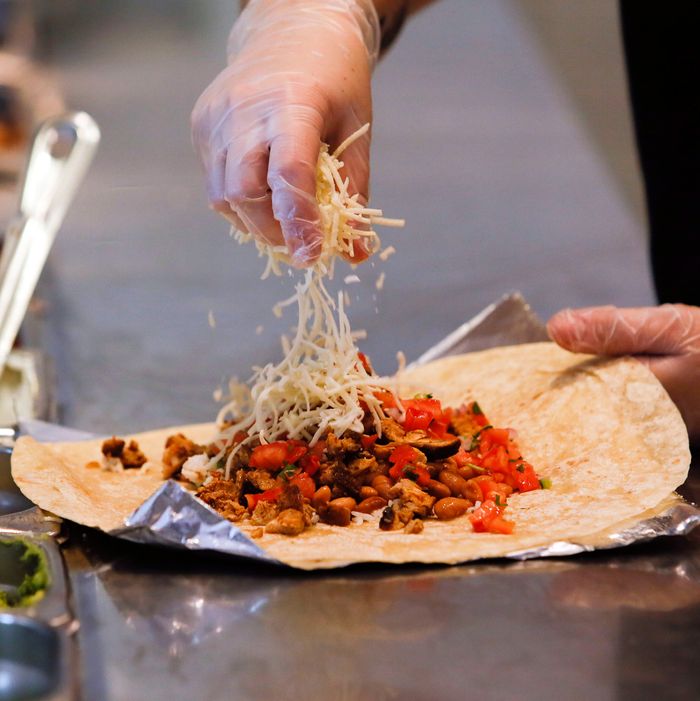 Norovirus has been confirmed.
Photo: Patrick T. Fallon/Bloomberg via Getty Images
Well, the saga of Chipotle continues: Health officials have tracked down "more than" 135 people who reported getting sick after eating at the Sterling, Virginia, location, which you'll remember was temporarily closed after patrons began to report an illness that sounded a whole lot like norovirus. And indeed, it appears to be norovirus, with a second case of the bug now confirmed.
From the Loudoun County Health Department:
"Two ill patrons have tested positive for the same strain of norovirus. Based on symptoms reported and these preliminary laboratory results, the cause of the outbreak is believed to be norovirus, though the specific source of the norovirus has not yet been identified," said Dr. David Goodfriend, director of the Health Department. "The Health Department is not aware of any customers becoming ill since the reopening of the facility last Wednesday."
So that's a positive! And, as a Chipotle spokesperson emphasized in a statement to the International Business Times, there's no particular reason to believe that the incident is not isolated, since "norovirus is common and easily transmitted by human contact" and therefore "not suggestive of any supply chain issues."
Meanwhile, Chipotle's chairman and CEO Steve Ells offered his apologies about the whole thing. "We are sorry that individuals reported sickness from one of our locations," he said in a statement. "The safety and well-being of our customers is always our top priority." It is not clear if Chipotle's shareholders, who have filed a class-action lawsuit against the company, have accepted the apology.