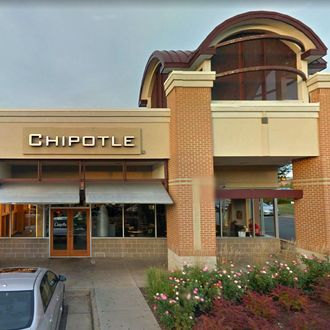 The Virginia location you should not visit.
Photo: Google
Whatever kind of Tuesday executives at Chipotle expected to have, this sure wasn't this: A franchise in Sterling, Virginia, closed this morning after multiple reports of customers eating at the restaurant, then falling violently ill. Their complaints, which were posted to the food-safety crowdsourcing website iwaspoisoned.com, describe symptoms consistent with norovirus — lots of vomiting, diarrhea, nausea, and severe stomach pains, all within hours of consuming food from that location. According to these reports, two customers have been hospitalized so far, and at least 13 say they've gotten sick since visiting the restaurant this past weekend.
Chipotle is already trying to dispel rumors. Its head of food safety, Jim Marsden, tells Business Insider that they're working with local health officials to "understand what the cause may be" and then resolve it, but based on the info currently available, he agrees that it sounds like norovirus. "Norovirus does not come from our food supply," he also adds, so "it is safe to eat at Chipotle."
In addition, this outbreak was isolated to one Virginia location; they plan to sanitize it and reopen within the day. (Don't everybody run there all at once!) Unfortunately for the chain, sick customers are describing their maladies in a very public place where everyone can read them. The list of complaints has a clear theme — episodes marked by customers "vomiting violently," "puking [their] brains out," experiencing "violent stomach cramps," becoming "violently sick," or just getting "violently ill … Violently ill … Violently ill."
Norovirus is one of several pathogens that created Chipotle's long foodborne-illnesses nightmare in 2015. It differs from E. coli in that it often comes from a sick worker not washing properly after going to the bathroom. Chipotle's last big case occurred in December of 2015, when nearly 120 Boston College students got infected at a location by campus. The company of course wants to highly discourage the idea that this is because of yet another systemic food-safety failure. There's absolutely no evidence right now that it is, but the CDC says norovirus can come from fruits or vegetables growing in fields as well, though the odds are still higher that it was a sick person on the assembly line.