Chef Chris Fischer hadn't thought much about writing a cookbook. He was busy enough managing his grandmother's 56-year-old, five-acre Beetlebung Farm on Martha's Vineyard, where he often hosted dinners, as well as working as the chef at the Beach Plum Inn. But after an editor from Little, Brown and Company visited the farm and ate Fischer's food, she told him she thought he should write a book for her. He spent eight months putting together a proposal, Little, Brown offered him an advance of $125,000, and in 2013, he happily signed the contract.
Two years later, Little, Brown published The Beetlebung Farm Cookbook: A Year of Cooking on Martha's Vineyard. The following year, in 2016, it won the James Beard Award for "American Cooking." By all measures, it was a success — a beautiful, thoroughly researched book met with critical acclaim. But while Fischer's book thrived, he struggled personally.
"I thought, They give you this money; they give you this contract; they basically tell you what the book is going to be," the chef explains. Instead, he was surprised that the publisher gave him autonomy, which turned out to be both freeing and chaotic. "It was a much different process than I realized. I was the author, the publicist, the farmer, and the restaurateur all at the same time." The demands on his time were so severe that he ended up having to stop cooking for an entire summer — his busiest time — just to promote the book.
Fischer's experience is extreme, but hardly unique. The common refrain in the publishing industry is that cookbooks are thriving. According to Nielsen BookScan, unit print sales for cookbooks increased 6 percent from 2015 to 2016. (Print books, in general, went up 3.3 percent during that time.) Ten Speed Press will publish 36 cookbooks this year — up from 33 in 2016 and 29 in 2012. Some authors, like Ina Garten and Ree Drummond, who had 2016's first and fourth most popular cookbooks, respectively, are guaranteed lucrative publishing deals and strong distribution because of their fame. Garten and Clarkson Potter sold 406,599 copies of Cooking for Jeffrey last year, which isn't far from the 428,105 copies of Barefoot Contessa Foolproof sold in 2012.
But authors no longer have to be bona fide Food Network stars to get cookbook deals. If a chef owns even a modestly successful restaurant (the kind that receives a one-star review or has 20,000 Instagram followers), agents and publishers will get in touch, offering seductive advances that frequently reach six figures. As Alinea co-owner Nick Kokonas recently explained on Medium, the way these deals are structured protects the publishing house and empowers them to make more and more books. But the immense time, effort, and money it requires to create a quality cookbook can put chefs — especially those operating small, independent restaurants — in surprisingly vulnerable positions.
The Allure of an Advance
Here's how these deals are typically structured: Once there's an interest in a book, chefs will usually employ an agent (and sometimes a co-writer, who can become a 50-50 partner in the project) to help them craft a proposal and shop it around to publishers. This process can take years, but ideally, the work creates a bidding war among book editors, and gives both parties a clear sense of what they'll end up creating, whether it's a $20 paperback or a $50 art piece destined for coffee tables.
When a publisher agrees to buy the (future) manuscript, they offer an advance — often around $100,000 to $200,000 for a first-time chef-author — that's paid out in installments. Money gets dropped when the chef signs, the manuscript is delivered, the book arrives in stores, and one year after its release. $125,000 isn't a lot of money when it's spread out over several years, and it seems like even less when you consider that chefs are responsible for paying to put the book together. Fischer says he paid his photographer $35,000, co-writer $30,000, designer $30,000, and bankrolled the recipe-testing and travel himself. Not only did he fail to profit, but he ended up spending more than his advance. "The hope," says agent Monika Woods, "is that most of the money comes on signing and delivery, because the budget of a cookbook is crazy, and the chef and their teams usually have to bear the brunt of that."
Chefs often realize quite early on that the numbers don't add up in their favor. "It seems like a big chunk of money, but our advance wasn't even enough to cover the initial expenses," says Alex Stupak, who co-authored Tacos with Jordana Rothman. "We were already in the red. Fortunately, I have Empellón as income, so I could personally front that money. The check I got seven months after the publication date — after taxes, I think it ended up being $10,000."
Abraham Conlon, the chef and owner of Chicago's Fat Rice, puts the deal in perspective: "Cookbooks are like restaurants — you can't make money with one." He says he "pretty much broke even" after spending a third of his The Adventures of Fat Rice advance on travel. Now, less than a year after the release, the bulk of the profits occur inside his own restaurant, but he's still hopeful that it'll go into a second printing.
Even books that do have long shelf lives and continue to sell don't necessarily benefit the authors' bank accounts. "It's a small amount of books that earn out and get royalties in our business," Woods explains. "That doesn't mean that nobody's making money. Publishers are making money. It just means that the authors aren't getting paid again."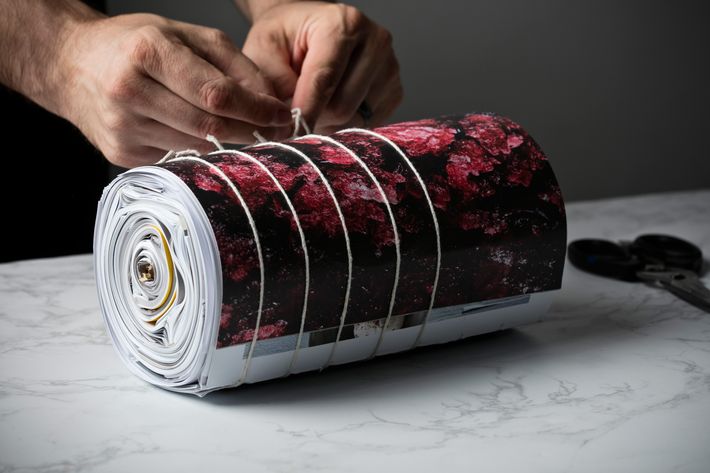 Authors also say they have trouble figuring out exactly how many books they've even sold. "My biggest critique is that there's not a lot of visibility," Stupak says. "With Empellón, I can call my director of operations and get any bit of data I need. Whereas with books, they're not forthcoming with that information." (Publishing houses including Clarkson Potter, Phaidon, and Ten Speed all refused to comment.)
Woods acknowledges that accessing and reading royalty statements from publishers can be "really confusing." Barrier to entry is one thing, but it's a grave problem if a publisher is potentially misrepresenting information as a bargaining strategy for a second deal. Fischer says his monthly reports stopped coming about a year after his book published. "There was a time when local stores were saying that they couldn't get the book," he says. "I know the first printing was 15,000. I remember, at one point, seeing the numbers hovering around 10,000 to 12,000." After the book won the James Beard Award, Fischer expected the number to rise, but that's not necessarily what happened. "I went to meet with my editor about another book, and he quoted a number much lower than any of those," he explains. "I thought, That's impossible. Alone on Martha's Vineyard, I know we sold more than that."
The Demands of Writing, Recipe-Testing, and Promoting a Cookbook
Since publishers do give cookbook authors a great deal of freedom, writing a book while running a restaurant can have its advantages: Stupak relied on his Empellón cooks to help with recipe development and the mise en place for photography, which he shot at Cocina, avoiding a hefty studio fee.
Caroline Fidanza employed a similar strategy with Saltie: A Cookbook. Less than a year after she left Diner to open Saltie, she says Chronicle Books offered her an advance of approximately $50,000 — an "unexpected thing" she didn't initiate. Fidanza was able to profit because her three-person team did all the writing, illustrating, recipe-testing, and styling themselves, and any additional expenses came out of the business earnings. "Saltie paid for the photography because, at that point, we basically didn't have any employees," she says. "I could never pay for a book out of the business now. At that time, we just had better cash flow."
This autonomy can also lead to dysfunction. In the middle of the summer of 2014 — the busiest time at Martha's Vineyard — Fischer's editor left Little, Brown for a new job and his designer quit. Fischer and his team taught themselves the software needed to design the book. He left the Beach Plum Inn soon after. "We had a ton of control," he explains, "but the other side is that if we weren't resilient and somewhat savvy, I think the book would have died."
This problem is compounded by the fact that, most of the time, publishers only partially assist in promotion. "Very few people know that when you make a book deal, PR is up to you," Fidanza says. While publicists are assigned to titles — Clarkson Potter publishes 30 to 35 cookbooks a year and employs five people on its PR team — the support isn't always seen as sufficient. "Once it was all said and done, all my money, what little bit I get from it, went into the book tour," Stupak says. Not only is flying around the country costly and almost always at the chef's expense, but it draws them away from their own kitchens. This is perhaps manageable for celebrity chefs who own multiple restaurants and travel frequently for their jobs anyway, but is less realistic for a small-business owner. "Almost every opportunity, interview, and collaboration was initiated and executed by us, and paid for in a way that we found to be creative," says Fischer.
Conlon remembers feeling confused about what, exactly, Ten Speed could offer. "For the book tour, we said, 'What's the budget?'" he remembers. "And they were like, 'Well, there really isn't a budget, but don't spend too much money.'" In the end, Conlon says Ten Speed reimbursed him for around $7,500 worth of tour-related expenses.
The Realities of Self-Publishing
"Making a book is a pain in the ass," Kokonas argues. "You're probably going to have to do everything but the printing by yourself anyway. So why wouldn't you just go one more step?"
Kokonas and Grant Achatz turned to Kickstarter to raise money to produce The Aviary Cocktail Book, and ended up surpassing their $50,000 goal to bring in $423,627, which will almost cover the cost of the initial print run, after production expenses. Kokonas projects they'll do $650,000 in sales before they even start shipping, and then anticipates an additional $300,000 to $400,000 a year. (Alinea, published through an unconventional deal with Ten Speed that involved no advance, currently brings in about $300,000 in sales directly through the restaurant's own channels, Kokonas notes.)
But Achatz is a celebrity, and Alinea and the Aviary are restaurants with an international audience. Lower-profile chefs might not have the support they need to foot the bill up front. ("I couldn't even fathom self-publishing my own cookbook," Conlon says.) That hasn't stopped people from trying, though.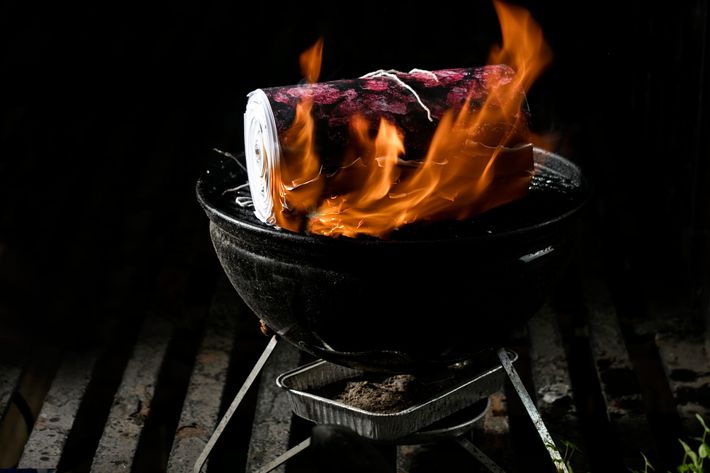 John Sundstrom, the chef and owner of Lark in Seattle, self-published with moderate success. Publishers started calling Sundstrom after he won the James Beard Award for Best Chef: Northwest in 2007. When the financial crisis hit, the offers disappeared. In 2012, as Kickstarter and the iPad were simultaneously gaining popularity, a friend, Jared Stoneberg, approached Sundstrom, and they decided it was savvier to self-publish the book and also create an app.
Sundstrom raised about $40,000 on Kickstarter for Lark: Cooking Against the Grain, which subsidized the production of the book. To cover printing and publicity, he borrowed $50,000 from a bank. Sundstrom was able to produce and print the book locally in Seattle within a year — much faster than a publisher's typical two-year turnaround time. Production costs totaled at $18 per book; he acknowledges that a publisher could've made it for $3 to $6, but when charging $50, the scale worked.
The real problem, Sundstrom says, was that he didn't have a network for distribution. Sundstrom printed 5,000 copies and quickly sold half. Five years later, he has 1,000 copies left. When a local publisher, Sasquatch Books, approached Sundstrom to reissue the book in a soft-cover format and with coverage of Lark's new location, Sundstrom agreed and accepted an advance of about $10,000. Sasquatch, which is connected to Penguin Random House, has sold 3,000 books to date — succeeding where Sundstrom failed at getting the book into national distribution chains, but it still hasn't made a significant difference.
"On a financial level, breaking even is about as good as I can hope for," he says. Still, Sundstrom's pleased with the outcome. "The whole process was very satisfying on a different level. I have souvenirs for the restaurant. We made a beautiful, carefully crafted book. It's nice to say I'm a published author."
Why Do It?
Of course, publicity is one of the main reasons why chefs write cookbooks in the first place. "If you think about it as a business, then it sucks," Stupak says. "I honestly wasn't thinking of it as a business. I was just thinking of it as a brand-building exercise."
The attendant interest around a book not only helps chefs build name recognition, but once a restaurant is a few years old, a book is an opportunity to revive interest. "The goal is to try to get critical reception for a book," Woods says. "The sales are — I don't want to say — secondary."
There is also the satisfaction that comes from creating something that could, in theory, inspire people and help them cook for years to come. "We designed a piece of art, a piece of history," says Fischer, who's working to secure a deal for a second cookbook. "I've chosen three activities that are completely not profitable: farming, writing, and trying to be a restaurateur. For me, nothing is financially driven in my life."
The Saltie book holds sentimental value: "I'm the only remaining partner, so it's nice to have documented that time when it was the three of us starting out," Fidanza says. "It's even more meaningful now than I realized then." Conlon isn't so convinced. "It's an incredible amount of drain," he says. "I can't say I'm totally gung ho about doing another book." One surprising perk is that he felt liberated to essentially take the recipes from the first two years of Fat Rice off the menu and start fresh, once they were immortalized in his cookbook.
"Every now and then on Instagram, it's cool to see someone cooking at home out of your book," Stupak says. "But the deeper meaning is that you're renting out space in their brain. You're putting your ideas into their head, which has value. Tremendous value."