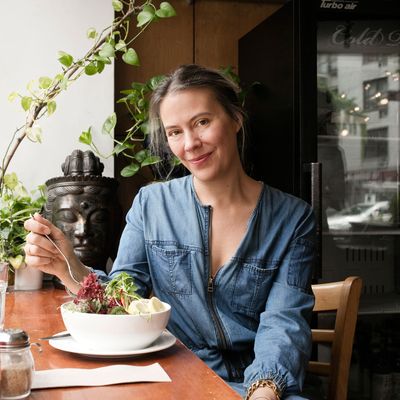 At Soeun.
Photo: Melissa Hom
Almost any discussion of what wellness means in 2017 includes a nod to CAP Beauty: first a web store, and now a brick-and-mortar New York shop and spa that takes an inside-out approach to natural beauty. In addition to cosmetics, CAP has helped popularize exotic superfoods, tonics, and teas, earning founders Kerrilynn Pamer and Cindy DiPrima a cult following. Not surprisingly, Pamer's diet involves all kinds of herbs and potions and raw foods — which she recognizes that many will find polarizing and inaccessible. "I didn't always have this diet," she says. "I found out I had celiac eight years ago, and that was a big wake-up call for me." She calls her new way of eating "transformational," but also admits, "I'm the first one to say that this is not an inexpensive way to eat, at all." Read all about it in this week's Grub Street Diet.
Thursday, July 20
My mornings look pretty much the same every day. I start my day with 20 minutes of Transcendental Meditation, drink a big glass of water with the Beauty Chef Glow (my probiotic) and Genesis Gold mixed in, and then make my matcha and herbs to jump-start my morning. The herbs change from time to time, but today it's a big batch of Rhodiola for focus; tocotrienols for a little creaminess; pine pollen to get my creative juices flowing; astragalus for immune support; he shou wu for hair, skin, and nail health; and the CAP Beauty coconut butter, because it tastes so good. My version of Bulletproof! I crawl back into bed with my husband and doggies, Beba and Ricardo, and we check in with each other, share our dreams, and talk about what's on the agenda for today.
I then prep some stuff for dinner and snacks for the week. I've been really into making farinata, a chickpea-flour pancake that's also called socca, this summer. It's my answer to having a frittata around. It works as a canvas for flavor. I allow the batter to ferment overnight, drop it in coconut oil, and then pop it into the oven, and it cooks in 10 to 15 minutes. Whatever I'm craving, I add it to the batter. Today, it's paprika from Ray at the Grand Army Plaza farmers' market, berbere, pink salt, and parsley. Then, I toss some soaked lentils into a pot; cook those up; and add preserved lemon, mint, capers, sherry vinegar, Wonder Valley olive oil (the best!), and salt. Happy to have both of these on hand for the full week ahead.
I have a meeting in midtown and it's a scorcher today, so I bring a green juice, some cut watermelon, and an avocado to get me through the morning. I pretty much always have snacks on me; lately, that's been primarily fruit since it's so hot outside.
I head back to the office and make a Gynostemma tea to warm me up, given the arctic conditions inside. The contrast is so intense in New York in the summer, I can't decide if I want hot soup, an ice-cold salad, or a huge bowl of fruit, which is what I end up going with for lunch. Watermelon and pineapple. I'm having a serious love affair with fruit this summer.
Afternoon meetings take me to the kitchen for another matcha. This time neat and straight up. And an Ommm! from Juice Press, my pick-me-up for the second half of the day.
I'm heading to an old friend's house for dinner and am very excited about it. She makes a gorgeous spread. Leave it to her to work all day, raise an amazing child that we shared dinner with, and get a meal like this on the table. Tonight, we feast on zucchini noodles with pumpkin-seed pesto; roast carrots with za'atar and parsley over chickpeas with raisins; shredded romaine with yellow tomatoes and peppers; and sliced avocados. Another old friend comes over and we end up getting kicked out around 1:30. It's amazing how time slips away when seeing the people you love. I head home and John is still up, so we have herbs together. Our tea-and-herb ritual is one of my favorite parts of my day.
… I had always been sick as a kid and had digestive and skin problems. I had never really considered how impactful a diet could be, and my body responded fast and furiously to this change. I've taken down my inflammation a lot. I've gotten much deeper into this way of eating lately, but it doesn't feel super rigid, and also this season lends itself to what I'm doing right now. This isn't the way I'd eat in the winter — I'd add a lot more cooked foods, a little more grains.
Friday, July 21
Up early. TM, Glow powder, and another round of matcha and herbs. Astragalus, he shou wu, pine pollen, coconut butter, and Rhodiola. I drink this, have a bowl of cherries, pack up an avocado (I like to be prepared!), throw a bag of Gynostemma tea into my bag, and I'm off. I head to an appointment in Chelsea, and on my way back to the office, I stop at Forager's. I grab a LuliTonix Kick Blend that's spinach, mango, fig, and mint. It's another hot day, and I don't have too much of an appetite because of the heat, so I'm hitting the beverage train hard. I grab some watermelon when I'm back in the office, make a matcha, and get to work.
Another night out. This time with my business partner, Cindy, and my old friend Kimille. We plan on meeting at Dimes at 7:30. We start with a bowl of grilled shishito peppers, one of my favorites. Then I order the big salad with beets, carrots, a side of avocado, hold the dukkah. Cindy and I share the quinoa plate with steamed kale, sweet potatoes, and sesame otsu. The sweet staff sends Champagne over post-dinner. I love it here.
Socially, keeping this diet is actually pretty easy. I don't talk about it, which is kind of funny. At a restaurant, I'll barely mention it. I don't want to be the person who says, "I'm not eating this or that." That's a fucking bore. But I'd say almost all of my friends and family are curious because they've seen me transition into feeling better. I don't preach about it, but my family probably still thinks all I eat are sticks and twigs.
Back at it with the tea and herbs. Another round of meditation, some time spent with John, some snuggles with Beba and Ricky, and I'm out for the night. I'm thrilled to have tomorrow off. Especially because it's a beach day.
Saturday, July 22
Our Saturdays are pretty routine. They begin with TM, then we suit up the dogs, gather the week's worth of compost from the freezer, and head to the farmers' market. After we drop off the compost, we make our way down to Juice Press and Blue Bottle. I grab a couple juices for our beach day at Fort Tilden, and John gets an iced Americano. I don't really drink coffee — it tweaks me out — but I am known to have sips off of John's or Cindy's. My version of party smoking.
Then it's back to the market to stock up for the week. We pick up collard greens, sunflower sprouts, and some beyond-delicious cucumbers, mushrooms, carrots, radishes, lettuce, and peaches. Once we get home, I prep the food for the week, snack on some pineapple, and get ready for our beach day. I always want snacks at the beach, so I cut up a bunch of watermelon, pineapple, and cucumbers. The beach has some good food options these days; there's a stand that I always hit that sells Thai coconuts, and another stand on the boardwalk called TropPops. They make the most delicious Popsicles just out of fruit — and today it's mango, and one side is covered with dark chocolate.
Back at home, we start preparing a huge post-beach salad. Tonight, it's a lot of the stuff from today's market: greens from Evolutionary Organics; beets; the lentil salad I made this week; my husband's sauerkraut; micro watercress; lettuce mix from Evolutionary Organics (the best!); carrots from Willow Wisp Farms (another favorite at the farmers' market); avocado and my new favorite salad dressing, which is a combination of Basbaas cilantro coconut (this stuff makes everything better); sauce with some Wonder Valley olive oil; and pink salt. I add a side of Vegan Mario's bread (this is one of the best breads I've ever had — we order it from California; it's that good!) and some coconut oil on top. Dinner is served.
There's validity to people saying this kind of diet is prohibitively expensive. I don't really go out for big dinners. I eat in a lot. We have a juicer at home, so I make a lot of my juices myself. I also don't drink. People will say, "Your juice is $12," and I'll say, "Your cocktail is $16." And that's okay! It's expensive, but I am committed to this. I haven't always been in a position for that to be the case, but it's an important decision to me. I'm the first one to say that this is not an inexpensive way to eat, at all. And all the adaptogens that I take, would I be taking those if I didn't own CAP? Probably not. I'm super lucky in that sense. If I was just walking in, hell no. Crazy. I wouldn't be able to buy all of those! But the initial investment is definitely valid.
After dinner, it's back to the kitchen for tea and herbs, some Kundalini, and lights out.
Sunday, July 23
I have a lot to do at the office lately, so I prep some herbs and matcha, and head in on this rainy Sunday morning. I'm feeling super focused with the herbs and matcha on my side, and I plow through my stack of papers and lingering items. I drink a Greens + Earth, have a rose Tulsi tea, and snack on some pineapple and watermelon. Now that my work life is feeling more in order, I head home and have a Juice Press Lucky Seven, and an avocado with pink salt and some sunflower seeds. I'm obsessed with these sunflower seeds from Joshua Tree that this woman hand-roasts at her home. It seems absurd to like sunflower seeds this much, but they're that good.
Dinner tonight is quick, as we are going to a friend's house for Game of Thrones, and I know there will be good snacks on hand. Maya Kaimal sweet-chili lentil chips, carrots, radishes and green hummus, tortilla chips and salsa, and Go Raw carrot-cake cookies. Dinner before the big event is a big bowl with quinoa, that lentil salad again, sautéed greens from the market, Seed + Mill green-herb tahini, sauerkraut, cucumbers, grated carrots, more microgreens, and a delicious sesame-seed shake that is a collaboration between Seed + Mill and La Boîte. The farinata makes an appearance.
Some more herbs, sleepy-time tea, and I'm out.
Monday, July 24
I wake up and have more herbs (astragalus and he shou wu) with matcha, and head uptown to see a possible fulfillment center. It's pouring out and I grab a Juice Press Ommm! juice, a beautiful shiro plum that I snagged at the farmers' market, and one of my favorite snacks, Splitz, which are these delicious split-pea crackers made in New York. They don't sound exciting, but our whole office is obsessed with them.
After our visit uptown, we head downtown, swing by Ninth Street Espresso for an espresso pick-me-up, and head into the office. Today, I get a big container of salad-bar stuff from Life Thyme. They have tons of options. I go with a cabbage salad; roast sweet potatoes; grated carrots with pumpkin seeds; celery with olive oil; beets with sesame seeds; and raw broccoli salad. The list goes on. I add some sauerkraut, Cindy's husband's homemade hot sauce, avocado, and a side of Moon Juice's green fermented crackers, and call it lunch.
My day at the office is coming to a close, so I start thinking about dinner. I swing by Integral Yoga and pick up a bunch of tomatoes, botija olives, basil, onions, garlic, and zucchini. When I get home, I start a tomato sauce with my grocery haul and let that simmer while I soak more chickpea flour for another farinata. I'm big on having snacks around, so there's always something soaking in the kitchen. While I'm waiting on dinner, I have some pickled summer squash from the farmers' market, olives, cucumbers, and fennel. I also start the zucchini noodles for the sauce. I can't bring myself to call them "zoodles." I add some nutritional yeast at the end of the pasta sauce, toss it with the noodles, add some basil on top, hit it with olive oil, and dinner is served.
After dinner, it's chocolate. I'm in love with Honey Mama's peppermint bar. I found it on my last trip to Oregon and have been stockpiling. Another round of herbs, some time on the couch, reading (I recently got into the Ocean Greens cookbook that is all seaweed recipes and am really enjoying it), and it's time for bed.
Tuesday, July 25
I start the morning with herbs and matcha (clearly a theme here). While I'm making that, I start prepping dinner for tonight. It's from Meredith Baird's cookbook, Coconut Kitchen, and it's a ceviche made from (you guessed it!) coconut. I thawed it out the night before, and now all I do is cut it up and add tons of lime juice, tomatillos, tomatoes, cilantro, jalapeños, radishes, and salt. That will spend the day in the fridge, waiting for me when I get home. I make a green smoothie that's banana, kale, spinach, fig, mint, lime, and coconut water, and drink that while sitting down to answer emails.
I head into the office and have a Chaga tea, drink a green juice from Juice Press, and snack on some cherries. Lunch today is from Souen, one of my favorite old-school downtown restaurants. The chef salad is a favorite; it's loaded with seaweed, avocado, lettuce, carrots, steamed cauliflower, broccoli, daikon, and tahini dressing. I find it hard to find a really big salad in the city and this is a great option.
I grab some more tomatoes and peppers on the way home, and make a big batch of gazpacho for tonight. Mine includes tomatoes, apple-cider vinegar, shallots, red peppers, olive oil, cucumbers, pimentos, and salt. Soup and ceviche are ready to go, and dinner is served.
I'm still hungry after dinner, so I make a huge bowl of popcorn. I pop it in coconut oil, and then melt some more for the topping and add in tamari, berbere, and nutritional yeast. We catch up on the latest Game of Thrones and turn in for the night.