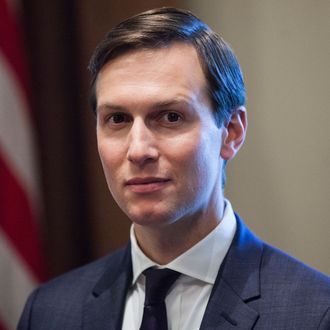 More legal trouble.
Photo: Zach Gibson - Pool/Getty Images
Restaurant battles with landlords are sadly commonplace these days, but a Williamsburg trattoria, La Nonna, has an interesting adversary: Jared Kushner.
The New York Daily News explains that the troubles go back to February, when owners Cono and Anna Morena stopped paying rent for the space on the first floor of the Austin Nichols House on account of "shoddy conditions and construction noises." That didn't go over well, though, and the landlord (Kusher's holding company) fired back with a nonpayment petition in Brooklyn housing court against the restaurant, saying they owed $72,783 in back rent and were now facing eviction.
But the plot thickens, because earlier this month, La Nonna responded with a counter-filing, claiming constant construction on the building is hurting their business. They argue that the scaffolding around the building means they can't offer outdoor seating, which costs them potential revenue, and it also blocks their sign. They also say there's water damage on the restaurant's walls and ceiling from a fire on the floor above that hasn't been fixed (and for which they haven't been compensated), and that the construction noise has been "excessive and unreasonable."
This isn't the first time Kushner, who picked up the property in 2015 along with two other developers, has had trouble with the building, a former rental turned luxury condos. Last year, there was a series of mysterious fires in the building, and complaints have since evolved to include mice issues, with one high-profile critter caught on camera "scurrying" across a crib.
A spokesperson for Kushner Companies declined to comment on the La Nonna situation due to pending litigation. It probably doesn't help that this is the least of Kushner's legal problems.