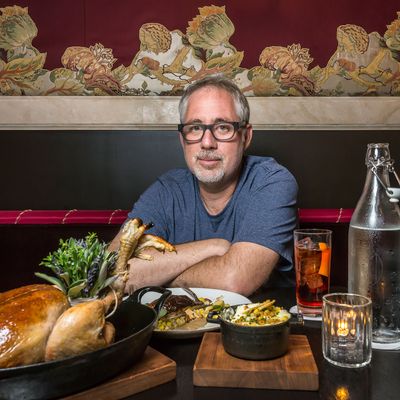 "And then we had the famous chicken, which deserves its fame as much as Marlon Brando deserved his," Koppelman says of the NoMad.
Photo: Noah Fecks
If you judge someone by the company they keep, you'd assume Brian Koppelman works in food — he's pals with Mario Batali, David Chang, and Danny Meyer, all of whom cooked for him this week. But Koppelman is actually in the entertainment business, best known for writing Rounders and Ocean's Thirteen and co-creating Showtime's Billions. This week, he took advantage of the time off from Billions' production to eat chicken in various luxurious forms — fried and with caviar at Momofuku Noodle Bar, cooked with chili at RedFarm, and roasted with foie gras and black truffles at the NoMad. Read all about it in this week's Grub Street Diet.
Thursday, July 6
My day always starts the same way. Coffee at 6 a.m., Transcendental Meditation, three handwritten morning pages. Today was no different. The coffee beans were from my current favorite, Greenpoint's Pueblo Querido — burr grinder, French press, some Kerrygold butter, and Bulletproof brain-octane oil thrown in. I'm usually a black-coffee person, but the butter doesn't ruin the taste. That's how good Pueblo Querido is.
Morandi with Nicholas Morgenstern. If you are walking on Seventh Avenue South around 9 a.m. on most Thursdays, you will see Nicholas and me at one of the outdoor tables here. He and I were introduced by our mutual good friend Mario Batali on a Vegas weekend trip best left for an entirely different kind of diary. (I know there is more food-world name-dropping in this Diet than at Adam Platt's table at the Beard Media Awards, but I have lived and eaten and made friends in New York City for over 30 years.)
Today, I had a good, strong double macchiato in a single-espresso cup, almost no milk. Yes, I know this means I had three or four servings of coffee before 10 a.m. But I have a season of Billions to write. I need energy. For breakfast, I ate uova in camicia — that is, poached eggs over spinach and mushrooms. The eggs were cooked just right, runny and warm and delicious.
Wish I could say the same about lunch. I ate at the Billions offices, alongside David Levien, my lifelong best friend and creative partner. The company was great. But I ordered saag paneer from a dodgy Indian place nearby, and it almost killed me. Never again.
On the way home from work, I met up with my wife, the novelist Amy Koppelman, at White Gold, which just came to our neighborhood and instantly made our lives better. Amy and I surveyed the cuts and chose a couple of Newport steaks. These are small, filetlike offerings, with a strip of fat that looks like the Newport-cigarette logo. Each one was about four ounces. We also got some bacon for the morning.
Once we got home, we cooked one of the steaks for me, a piece of salmon for her, and ate as we caught each other up on our days.
Friday, July 7
Stumptown house blend, high-octane brain oil, Kerrygold butter at 6:00 a.m.
At 8 a.m., Amy cooked up some of the stunningly good White Gold bacon and a couple of eggs.
Spotted Pig for lunch. Blue-cheese burger, no bun. I decided to reduce carbs and sugar for a month, so you won't see any pizza, ramen, pasta, ice cream, cold sesame noodles, or Thai food. My normal staples. But what's amazing and beautiful about eating in NYC is, the lack of those things didn't hinder me; it merely opened up new possibilities.
Worked through lunch. I've always loved the Spotted Pig. Ken Friedman, who owns the place with April and the rest, has been a pal since we were in our early 20s, and each working for record companies in the city. Even back then, when we were competing to see who could find and sign the best new rock band, Ken was one of my favorite people to run into late at night.
I took my nephew and his best bud to see WWE at Madison Square Garden. We got to do a meet and greet beforehand with a few WWE superstars, and it went straight into the show, so we had to scrap our dinner plans. I ended up eating my second bunless burger of the day, this one courtesy of Drew Nieporent's spot. I chose the cheeseburger with bacon-onion relish. For an arena burger, it's about as good as you can do outside of Shake Shack.
Saturday, July 8
I drove up to the Connecticut country for a weekend trip. On the way, I stopped in at Barney Greengrass and picked up some sturgeon to go. I've been going there since I was a kid — it was where my father and I would eat breakfast on weekend mornings when we drove in from Long Island. My dad and I still go when we can.
Walking into the place, the memories really hit me. Seeing my old friend Gary Greengrass behind the counter made me feel like I also saw his father, Moe, whom my dad loved. Then I started thinking of legendary supermensch and food-world figure Shep Gordon, who, when I was in my teens, taught me that the only way to eat Barney Greengrass sturgeon is on rye toast, with butter and raw onions. Today, no toast, no onions. Sorry Shep. But next time you're in NYC, let's go together and do it right.
Amy and I also stopped at a local Connecticut farmers' market and picked up steaks and salmon (a theme is developing). We then cooked them on the grill, simply, with butter, salt, and pepper.
We ate at Danny Meyer's house in rural Connecticut. He and his equally great wife, Audrey, have a gorgeous, warm, inviting, and understated house set against acres and acres of woods. We ate outside on their deck overlooking the pond. Their daughter, Hallie Meyer, knocked us over with her spaghettoni alla nerano, a dish from the Amalfi coast. It's spaghettoni with zucchini finished with grana and basil. She also made the dessert, which was black-raspberry clafouti with a shot or two of Mandorlino almond liqueur. Plus, there was amazing ice cream from Rich Farm! Yes, this meal made a huge dent in my no-carbs plan. And I didn't feel bad about any of it.
Sunday, July 9
I basically just had coffee and a couple of eggs in the morning, and that held me until early dinner.
Dinner at RedFarm on the Upper West Side. Three-chili chicken. Pot of oolong tea. Or, as I like to call it, Billions fuel. This is the meal I have the most often when I am writing at home. RedFarm is a couple blocks from my apartment, and I find myself walking over most weekends whenever I finish writing a scene or am about to start one. I don't get rice. I don't get an appetizer. I just have the one dish, finish the pot of tea, and I am ready to attack the script once more. Amy, our kids Sam and Anna, and I, along with New York food legend and family friend Ed Levine, were the first customers to ever walk through the doors of the UWS RedFarm on the day the place first opened. Ever since, it has been a serious part of my eating life.
Monday, July 10
Pueblo Querido coffee, and eggs and cheese from a local deli.
Lunch at Momofuku Noodle Bar. Along with Babbo, Noodle Bar is my favorite restaurant in the city. I've been going since two months after it first opened, and have been friends with David Chang for almost that long.
He invited me to Noodle Bar to sit with him as he went through a new presentation of his fried-chicken-and-caviar meal with his team. The idea they landed on was to serve it in a manner similar to Peking duck — that is, to show the bird, slice the bird, and then send the bird out to the table separated into white and dark, meat and skin. They paired it with some delicate crêpes and some kick-ass sauces. And, of course, the fucking caviar. Watching David go through the process with his team was inspiring and a little scary, which is, I think, as intended. I was shattered by the deliciousness. And afterward, Dave gave me a pair of Momofuku Nikes for my trouble. All in all, a riotously great way to spend my lunch hour.
Dinner at Seth Godin's house in Westchester County. He cooked us a brilliant meal of spicy rice cakes and blanched squid in a Thai tamarind sauce, grilled scallops in red-Thai curry, Camporosso escarole, kimchee, and homemade daikon vegetti. I brought up some Morgenstern's ice cream, which we ate alongside a crazy-good blueberry-almond coffee cake from By the Way Bakery, run by Seth's wife. The whole no-carbs thing had clearly gone bye-bye for now.
Tuesday, July 11
For breakfast, I had Stumptown coffee, a couple slices of mozzarella cheese, a couple slices of tomato, and some olive oil. A little restraint on a Tuesday morning.
The restraint ended there. I texted Mario Batali and told him I was writing, couldn't leave my office, but really wished I was at Babbo. There's pretty much nothing within his power that he won't do for a friend. He sent over a feast for Levien and me: black spaghetti with spicy salami calabrese; rock shrimp and green chilis; gnocchi Bolognese; and my regular Babbo entrée, grilled pork chop with cherry peppers, cipollini, and aceto Manodori. If this isn't the best pork chop in the city, I'm Virgil Sollozzo. It's good to have friends. I understand if you hate me a little. I'd hate me a little, too.
Dinner at the NoMad. I can't think of a better way to end a week of dining lunacy. I was with the novelist, songwriter, and producer Davitt Sigerson, who's like a brother to me, and maybe the smartest guy I know. The NoMad staff rocked our world with dish after dish of perfectly prepared food. We loved the seafood tasting — scallop in yuzu, oysters, uni panna cotta — and were destroyed by something they called "tomatoes three ways" that was really five, including my second clafouti of the week (and second I've ever eaten).
And then we had the famous chicken, which deserves its fame as much as Marlon Brando deserved his. All in all, this was one of the most incredible meals I've had in the past few years. As I wrote to Will afterward, the entire thing felt like an unreleased Pink Floyd album: familiar, strange, and absolutely magical.