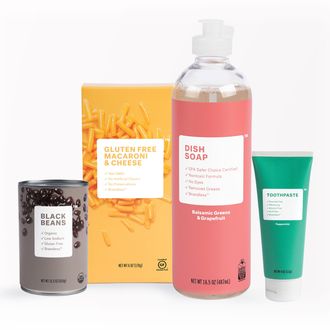 The labels still have a distinct look, of course.
Photo: Brandless
There's a new online retailer for shoppers who hate Big Food brands and/or love multiples of three. It's a start-up called Brandless, based in San Francisco, that yesterday started selling generically packaged supermarket staples for $3, no matter the item. The goal is to "democratize goodness," co-founder Tina Sharkey writes in a Medium post, by spending money on better products rather than plowing it into "hype" like brick-and-mortar supermarkets, TV ads, and brand mascots. Right now, the home page is promoting organic applesauce, sea-salt quinoa chips, virgin coconut oil, and an eight-inch serrated bread knife.
Brandless hopes the blanket-pricing scheme pulls in consumers (this in essence is the only marketable thing it's got to offer). Three bucks is a good deal for a six-ounce bag of fair-trade Colombian coffee, but as The Wall Street Journal realized after running the numbers, not every item is a money-saver. "The 115 products that will be initially available are generally more expensive than their big-brand rivals," it notes. Jif beats Brandless by nine cents per ounce on peanut butter, for example, while Kraft is a 42-cent cheaper option for macaroni and cheese. There are also plenty of things Brandless doesn't make. Cereal, for starters. (Malt-O-Meal must really have a vise grip on that category.) And because everything is a packaged nonperishable, it doesn't do any produce, bread, frozen goods, dairy, or meat.
But the ostensible trade-off is that with Brandless, you get products that are non-GMO, enviro-friendly, and free of preservatives or other artificial ingredients. In addition, "well over half" are organic, the company says. Several years of the start-up's R&D were spent "combing the industry" for health-conscious suppliers. Because of this, Brandless thinks it can hold its own against Trader Joe's or Whole Foods' 365 private label, which are more direct rivals than megacompanies like Nestlé, Kraft Heinz, or General Mills.