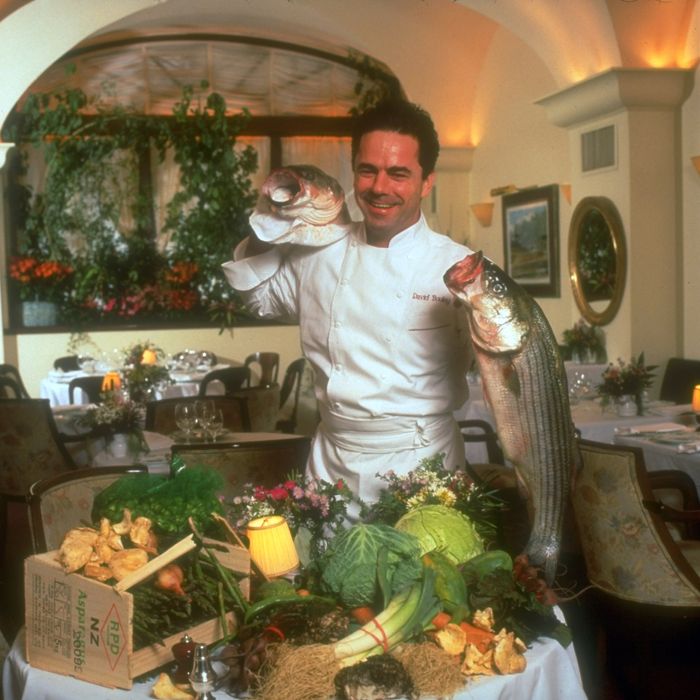 Bouley in his prime.
Photo: Mario Ruiz/The LIFE Images Collection/Getty
The biggest restaurant opening of 1987 happened a few short months before Black Monday. David Bouley — who had found fame two years earlier as the chef at Drew Nieporent's Montrachet — unveiled his first solo restaurant, Bouley, which gleamed like an 85-seat mirage on Duane Street. Early on, critics were skeptical, and decidedly unimpressed — "Is it possible that the magic that made Montrachet a mecca overnight has dimmed?"Gael Greene asked in the pages of New York — and even the most attentive adherents of Bouley's meteoric career weren't sure what to make of it. After the stock market plunged, it seemed Bouley, a chef who could extol the wonderfully astringent bite of oregano blossoms and sent out out bowls of deboned pheasant in truffled consommé, was doomed. Instead, the chef persevered and, over the last 30 years, turned the restaurant into one of the most vital dining rooms New York City has ever seen.
Though it retooled and relocated and maybe even transmogrified a handful of times over its life span — including closures in 1996 and 2008, and a midlife stint as the nominally less formal Bouley Bakery — Bouley as we know it will close after service tonight. It's unclear how final that is, but the chef, who long ago perfected his trademark style of talking about projects in elusive and concrete terms simultaneously, says the current space will become a "Private Dining Venue," while a version of the restaurant will relocate to Harrison Street and reopen "on a much smaller scale."
Though Bouley the restaurant is no longer talked about in the same manner as some of its most celebrated contemporaries — Le Bernardin, or even Danny Meyer's Union Square Cafe — there is no denying that Bouley the chef pushed the entire dining scene forward by always following his own muse. He is as responsible as any chef for the high Gothic style of the '80s. He presented new-wave yellowfin, perched raw and diced on a ring-molded mound of baby fennel, nestled in an emulsion decorated with dozens of dots of various herb oils. Cooks layered pineapple and artichokes under skate, added peppermint to lobster consommé, and tweaked half-shell oysters with Granny Smith apples. The deftly harmonic elements of Japanese kaiseki food, later to become a major theme at Bouley, was always an influence, meaning that oppositional ingredients like foie gras and sea urchin often ended up on the same Limoges plate.
He treated Manhattan like the island it is, dispatching his aviator brother Henry to retrieve ingredients like foraged juniper and wild porcini mushrooms, or Casco Bay scallops from the chilly waters of Maine. He was something of a farm-to-table pioneer, favoring local growers like Rick Bishop of Mountain Sweet Berry Farm, and gave top-billing to then-esoteric ingredients like crosnes and garlic scapes. The restaurant also served American farmstead cheeses, which at the time were considered inferior to Europe's offerings. Bouley didn't seem to care what anyone else thought, or was doing, and eventually everyone else tended to catch up.
By 1990, Bouley's frenetic genius yielded a four-star Times review. The flavor profiles were usually a decade or more ahead of the competition: Bouley abandoned butter and cream in the '80s, the same time he started to experiment with sous-vide cooking and champion organic potato farmers. The 1993 Zagat guide ranked Bouley, Aureole, and Union Square Cafe as New York's top-three dining rooms. Bouley was the rare chef who simultaneously pleased critics, other high-level culinary pros, and the public at large. People named him one of its "50 Most Beautiful People" in 1994. For maybe the first time in American food, the paradigm of young chefs jetting off to Europe to learn about the trade seemed reversible. "If you want to change the life, you [go to] Bouley," Ferran Adrià once told a chef seeking advice.
The restaurant's kitchen incubated scores of contemporary culinary talent. Dan Barber, Saul Bolton, Anita Lo, César Ramirez, Eric Ripert, and Christina Tosi represent just a fraction of the names that passed through the downtown restaurant. For a while, the phrase "formerly of Bouley" served as shorthand for a certain sort of ambitious chef, and was often used to market new projects — making the restaurant something like the Noma of its day.
Any cook who worked at Bouley in the '90s or early aughts has stories about the entire menu changing on the fly, often less than a half-hour before service started, or as the first diners were being shown to their table. "Sometimes he would start improvising in the middle of service, which is very unusual," Éric Ripert recounted in 2012. This would imbue cooks, already working 12-hour days, with constant dread, but for those who survived such antics, it was an almost awesome feat of culinary skill. (Some of Bouley's kitchen employees have remained for decades; many more others, tortured by the pervasive chaos, lasted only a few months, or even weeks.)
"Mr. Bouley takes paths nobody else is on, and walks farther along them than anybody else would," Pete Wells wrote, just last year, in the restaurant's last major review. The foie-gras-and-sea-urchin dish had been replaced with an uni presentation featuring, among other things, almond milk, tofu, yuzu sorbet, salmon roe, osetra caviar, and green-apple juice. "Each bite," the critic opined, "is exciting in a different way." Hopefully David Bouley will be able to reopen the restaurant to offer diners that kind of excitement again. If he doesn't, you will still probably see Bouley's ideas show up on someone else's menu in the not-too-distant future.