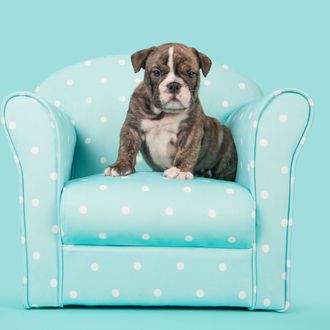 Get ready for lots of this.
Photo: Elles Rijsdijk/Getty Images/iStockphoto
A beacon of hope in a dark, dark world: New York City is about to get its very first dog café. To be clear, however, it's more of a BYOD situation. Unlike the city's influx of cat-centric options, which come with actual ambient cats, this future East Village hot spot doesn't employ any of its own resident canines. Instead, DNAInfo explains, Boris & Horton — named for the owners' dogs, obviously — is a place where you can hang out with your own dog, or someone else's dog, and also have a cup of coffee or a glass of wine.
The East Village café is the brainchild of pro-dog father-daughter duo Coppy and Logan Holzman, and will be divided into two sections by a glass wall, as required by the Department of Health. On the café side, which is taking over the space where Ost Cafe used to be, you get your pastries, drinks, and sandwiches. On the dog-friendly lounge side, former home of Raclette, you eat and hang out with a bunch of dogs. Staff will be on hand, apparently, to cover in case anyone needs to momentarily leave their schnauzer for a top-up.
You don't even have to have a dog of your own. If you're just a rando petophile who likes to chill with other people's dogs, no judgement (they're dogs). And if you're currently dogless-but-looking, the café can help with that, too: Badass Brooklyn Animal Rescue will take over the space for pup adoption events on weekends.
Unsurprisingly, given the incoming doggy clientele, some locals expressed "trepidation" about the new neighbors — "rancorous barking" and "unwanted dog waste" are among the concerns — but the Holzmans promise that Boris & Horton, slated to open this winter, is a civilized establishment. "We're going to have very polite rules of etiquette," said Coppy at a community-board meeting on Monday, noting they won't allow dogs who act "inappropriately."