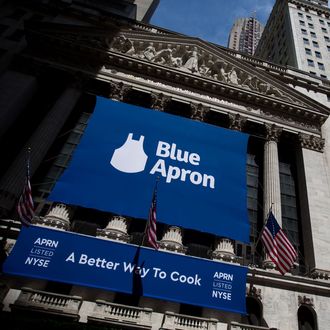 Starting to look like Blue Apron's "Mission Accomplished" banner.
Photo: Michael Nagle/Bloomberg via Getty Images
Two weeks ago, Blue Apron had the year's worst-timed, most underwhelming stock-market debut. The worst-case scenario was that shares wouldn't dip below $10, their already-disappointingly-low closing price after the IPO, but they dropped further yesterday — this time to $7.08. It's an all-time low at a time when they should be riding a so-called "pop."
A couple points, for context: For $7.65, you can purchase a share of Sears — which, maybe you've heard, is on the verge of bankruptcy. Something else that costs more than $7.08? An actual Blue Apron meal. They start at $8.99 under the family plan, and $9.99 for the two-person plan.
In fact, Wall Street is so pessimistic about Blue Apron right now that one firm, Northcoast Research, believes the $7 share price is not low enough. Its analysts remarked yesterday that $2 sounds more appropriate. They put their target price at less than a subway fare because Blue Apron faces "severe cost challenges as well as a competitive set that is broadening and intensifying." Those severe cost challenges are myriad: Blue Apron has never been profitable, its marketing costs have increased tenfold since 2014, and its annual losses continue to grow. The aforementioned "competitive set," meanwhile, mostly just means "Amazon and Whole Foods." Once the two officially merge, that well-oiled colossus will have little reason not to experiment with a meal-kit-delivery service of its own.