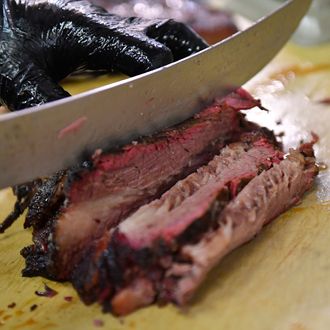 Why not celebrate with some brisket.
Photo: Ricky Carioti/The Washington Post/Getty Images
Americans bought close to a billion dollars' worth of beef this year for the Fourth of July. That's a monstrous burger appetite, but it also represents a somewhat renewed love for red meat: Consumer-purchasing data show its popularity is skyrocketing lately, beyond just what people purchased out of patriotic duty. Market-research firm Packaged Facts estimates that U.S. beef sales could actually come close to cracking $100 billion by 2021, and the average American ate 55.6 pounds of beef last year, over a pound and a half more than 2015. Altogether, this is quite the tide change from the previous decade, which saw beef prices climb as much as 50 percent and consumption overall shrink by 19 percent. Go back just two years, to 2015, and the big conversation you heard about red meat was that it maybe caused cancer.
Analysts say a streak of continuously low prices is mostly the reason for the change: The costs of gas and corn feed are way down, and those savings are showing up everywhere from the grocery store to the drive-through. It also helps that it's no longer equated with simply clogging arteries, and that barbecuing and beef jerky are popular. Even sales at McDonald's, Burger King, and Wendy's are up, growing between 3 percent and 5 percent this year — a comfy bottom line compared to non-burger chains industrywide, where growth numbers have largely been in the red.
As USA Today notes, analysts still predict a future that includes more beef-eating, even if, like everything else, meat won't ultimately escape President Trump unscathed in the near term: His new trade deal reopened China's markets to U.S. beef exports two weeks ago, and already steakhouse owners are complaining that they're paying as much as 30 percent more for popular cuts. They say producers are shipping so much overseas to get a foothold in China's new market that it's left a shortage of affordable meat for them at home.