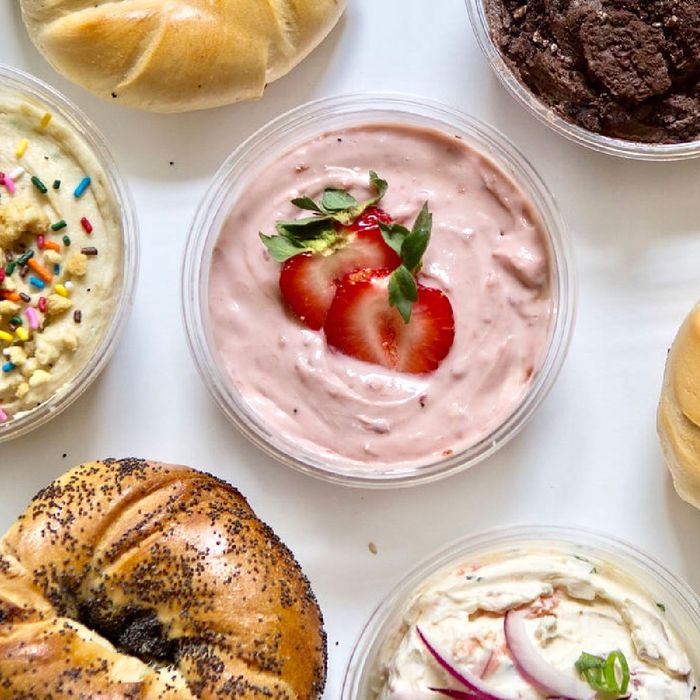 Get ready.
Photo: Courtesy of Becky's Bites
A new store dedicated entirely to cream cheese is coming to the East Village, which has bagel shops, and cheese shops, but never — until now — a shop devoted to the too-often-unsung spread.
The brainchild of cream-cheese enthusiast Becky Rosenthal and her husband and "co-visionary," Richard, Becky's Bites is a celebration of the possibilities of cream cheese. "Their mission," explains a press release, "is to make New York City known for its cream cheese in the same way the city is famous for its bagels."
To that end, the shop — which is slated to open this Thursday — promises an array of cream-cheesy offerings, including bagel spreads in a wide variety of unexpected flavors (peanut butter, chocolate-dipped strawberry, Funfetti birthday cake), parfaits, tiny tarts, "Beckaroos" (like Dunkaroos, but presumably cream-cheesier), cookie sandwiches, chocolates, and — the headliner — Becky's signature chocolate-dipped cream-cheese bites. All the cream cheese in question is sourced from the Hudson Valley.
Despite its singular commitment to the cause, the store, located at 122 7th Street, will also offer a handful of cream cheese–adjacent items, including coffee, bottled milk, and, yes, bagels.