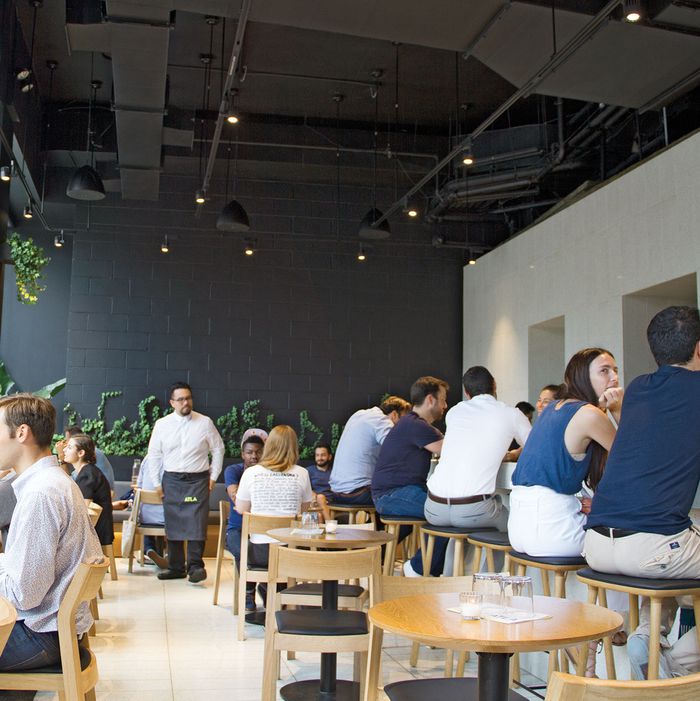 Atla.
Photo: Jemma Hinkly/New York Magazine
"There's no such thing as a perfect restaurant," a dyspeptic old critic once admonished the Underground Gourmet, and, of course, she was right. So in acknowledgment of this fact, let's start this review off by listing all the flaws and defects that prevent Enrique Olvera's new Noho canteen, Atla, from achieving a state of perfection. Ready?
Since they serve no drinks or food between the hours of 4 and 5 p.m., you can rightly say that Atla, strictly speaking, is not the all-day café it purports to be. What else is there? Hmmmm … oh, yes: With those enormous picture windows facing Lafayette and Great Jones Streets, it can get awfully bright and sunny, and you may have to ask your server — preternaturally cheerful and efficient, no doubt owing to all that streaming sunshine — to pull down the high-tech shades. As for the food, the "farro wheat" meatballs are more to be pitied than censured, which presumably is why Olvera, to his credit, yanked them from the menu early on. And then there are those giant purple fried tortillas the size and shape of jungle leaves that go with the bowls of excellent guacamole, as well as the even better white-ayocote-bean hummus. Having taken the trouble to enlist a specialty importer of heirloom Mexican corn, then painstakingly process the kernels into masa with which to make the tortillas, Olvera and his gang of slackers figure they've done enough, leaving you to finish the job and crack the colossal monochips into manageable pieces with your bare hands.
If these gross deficiencies do not deter you from going, know that otherwise Atla is pretty much a perfect restaurant. And the extraordinary thing is the number of modern-day culinary needs it fulfills: alt-milk coffee shop, juice bar for gym rats, California-style breakfast joint, serious mezcal bar, creative cocktail lounge — and, oh, yeah, top-notch Mexican restaurant.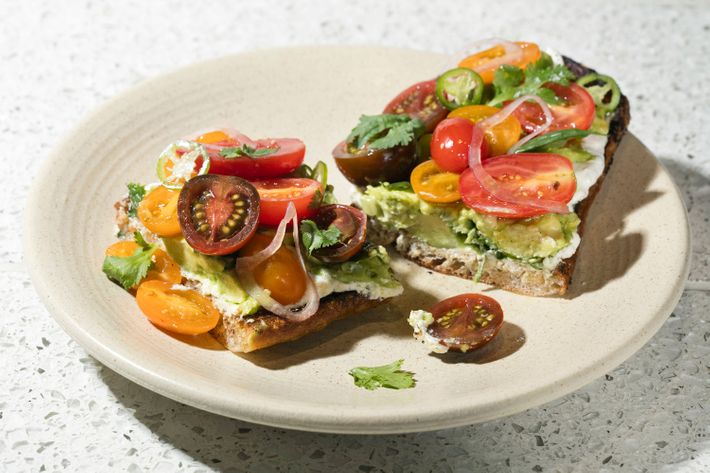 Of course, if you grew up eating Mexican food in New York, or maybe even in Mexico, you might find yourself wondering, Egg-white omelet? Coconut yogurt and blueberries? Avocado toast? What kind of Mexican restaurant is this? The answer is the kind of Mexican restaurant inspired loosely by a trio of casual café-deli-bakeries called Eno that Olvera runs in his hometown of Mexico City. It should come as no surprise that the populace of Mexico also likes to eat things like artfully segmented dragon fruit, papaya, and mango; coconut-milk-soaked chia seeds scattered with nuts and dried fruit; and bowls of chicken-and-rice soup as soulful and nourishing as anything ever ladled out of a 2nd Ave Deli pot.
As at Olvera's fancy Flatiron restaurant, Cosme, Mexican food is presented here in a uniquely Olveran (or maybe Olvera–in–New York–ian) way, though no opportunity is lost to highlight the foundations of the cuisine. That aforementioned masa (along with varied and prodigious salsas) is the building block of much of Atla's menu: the pea-stuffed-and-garnished tlacoyos; the flax-seed-flecked chips in the chilaquiles; the soft rolled or layered tortillas in the chicken enchiladas, the bean-sauce-drenched enfrijoladas, and the tomato-salsa-lapped rancheros.
There's a lightness and crispness to almost everything, from the superb panko-crusted fish Milanese to that aerated coconut yogurt, and a reliance on fresh herbs, slivers of serrano pepper, the tang of dairy, and the unexpected drizzle of olive oil. These bright flavors enliven otherwise ordinary-sounding items like quinoa salad and even that deliriously good avocado toast, rendered here as a crisped, garlic-buttered canoe of Bien Cuit ciabatta spread with goat cheese and mounded with chunky guacamole and a cherry-tomato pico de gallo.
Like candidates on the campaign trail, Olvera and chef de cuisine Daniela Soto-Innes have expounded their vision for Atla as a more casual, affordable, accessible alternative to Cosme — not a destination restaurant but a neighborhood joint. The dyspeptic critic would be happy to know that in this, too, they have failed. In its effortlessly informal, wear-and-eat-what-you-want, walk-ins-welcome approach, Atla is the destination dining of today.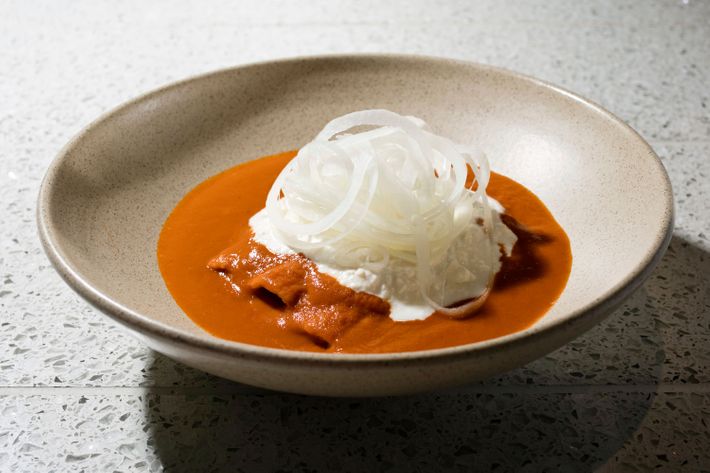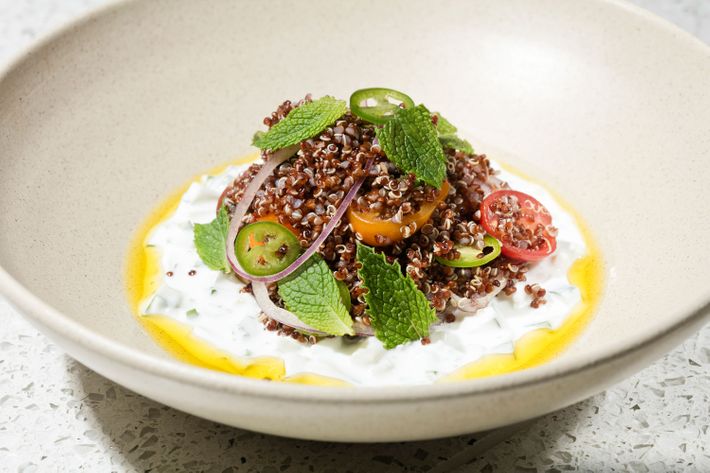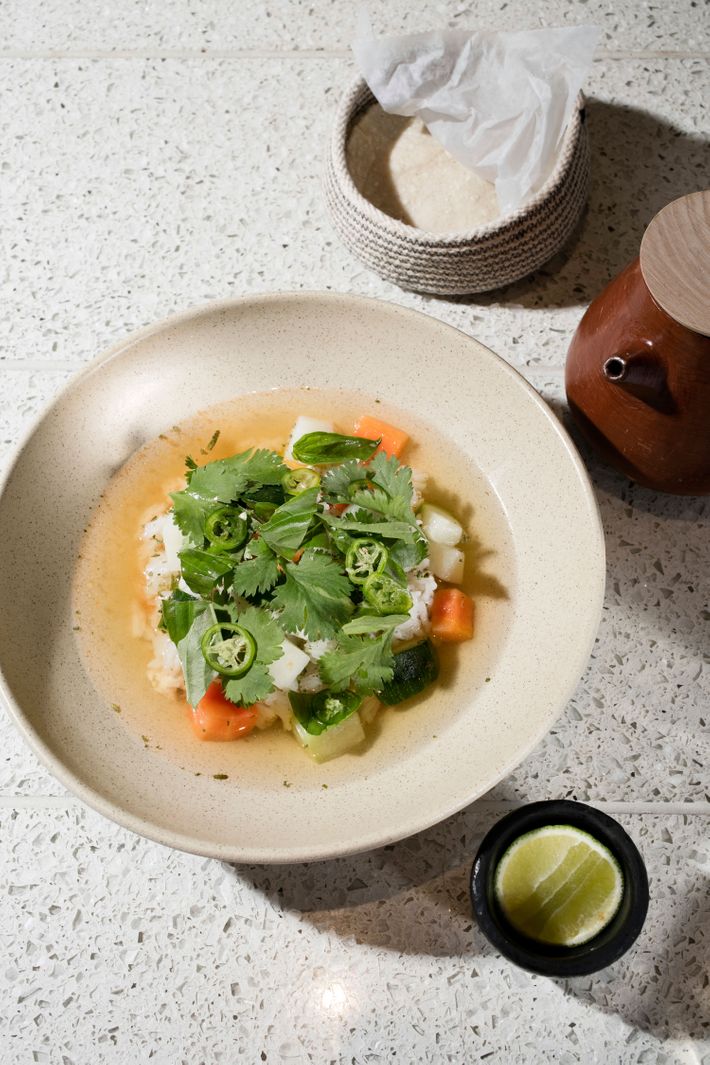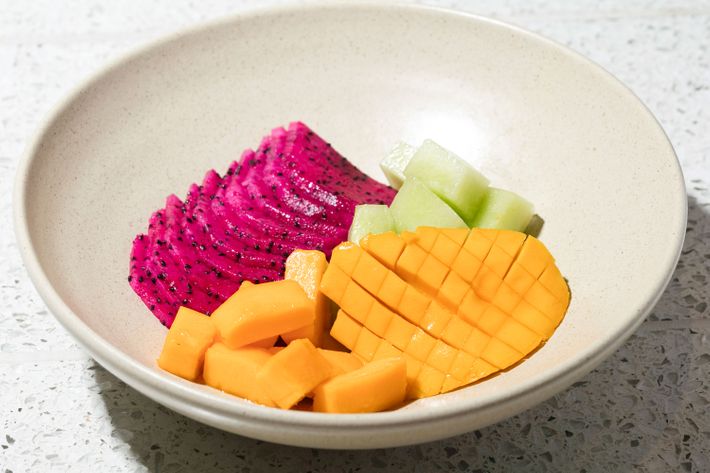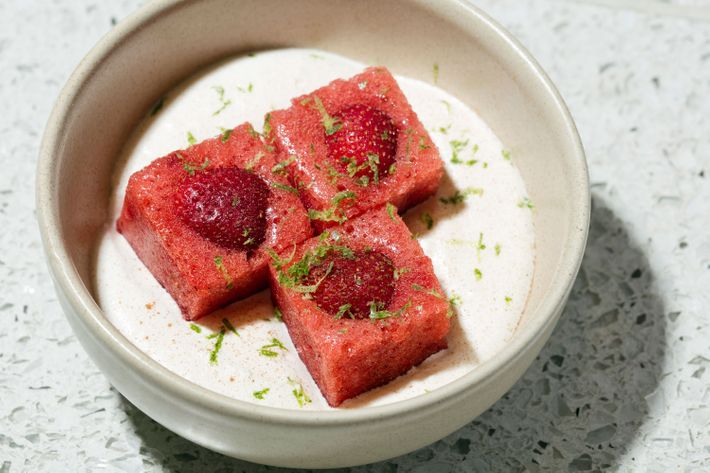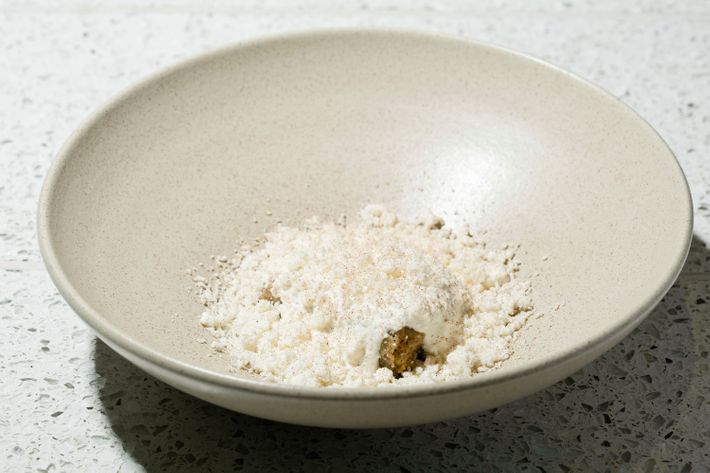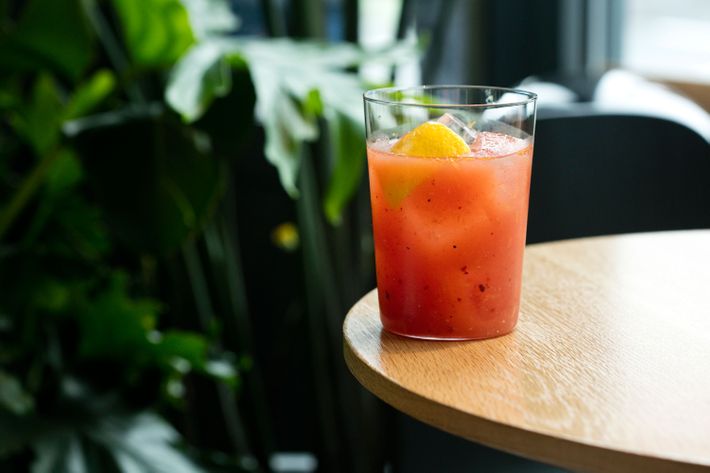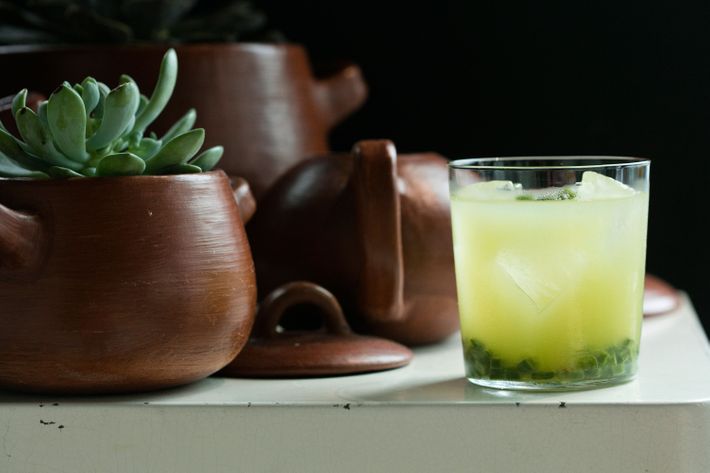 Atla
372 Lafayette St., at Great Jones St.; no phone; atlanyc.com
Open: Daily for breakfast, lunch, and dinner.
Prices: $6 to $20.
Ideal Meal: Chicken soup, enfrijoladas, fish Milanese, and corn tamal.
Note: The entire menu can be ordered at breakfast — ceviche verde, chicken enchiladas, and all.
Scratchpad: Two stars for the accomplished cooking, another for the space and service, and one more for the inventive drinks, both soft and hard.
*This article appears in the July 24, 2017, issue of New York Magazine.