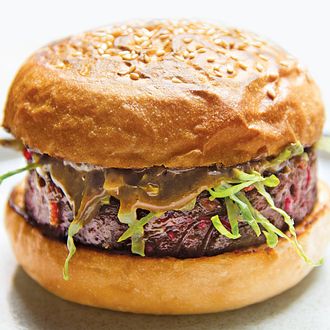 The burger had its fans, but the location wasn't great.
Photo: Tirzah Brott/New York Magazine
April Bloomfield and Ken Friedman opened Salvation Burger in February of 2016 t0 much excitement, but while the all-American concept was strong, the location inside the Pod Hotel in Midtown East never seemed like a great fit. Then, a kitchen fire hit the restaurant and caused it to close for 7 months, which can be devastating to a business at any degree of popularity. Now they've decided to close the restaurant, following service this Saturday. No salvation!
In a letter to staff, they write they had "difficulty picking up steam following our reopening." Still, they say: "This will not be the last that you hear of Salvation Burger. We believe in its spirit and hope to find a new home when the time is right." The plus-side is that they can relocate their employees to their other restaurants, including newly opened White Gold, which is already a hit.