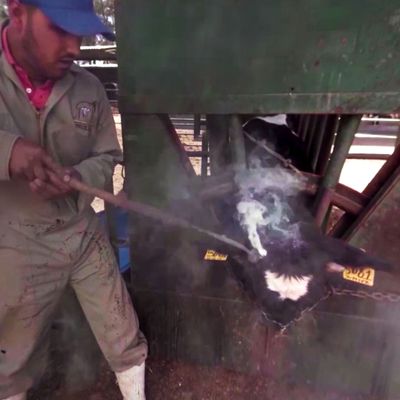 A still from Animal Equality's third VR video.
Photo: iAnimal/YouTube
Virtual reality: It's not just for porn, art, and terrifying zombie video games. It's also for videos capturing the often horrifying experiences of factory farms. According to a report in the New York Times, the technology has been adopted by animal-rights groups, who are using it to more accurately depict what they witness inside the farms. Last year, Animal Equality became the first animal-rights organization to use virtual-reality technology. The group says 63 million people have viewed that video, and as of this week, Animal Equality released its third 3-D "iAnimal."
Since Animal Equality's first video, organizations like the Humane Society of the United States, which released a VR video of a South Korean dog-meat plant in May, and Direct Action Everywhere have adopted the technology. The latter released a VR video yesterday depicting unsavory conditions — including piglets nibbling on deceased piglets and pregnant pigs gnawing on the bars of their tiny stalls — at Circle Four Farms in Milford, Utah. Circle Four is one of the country's largest pork producers and is owned by Smithfield Foods, which was bought by Chinese meat processor Shanghai International in 2013. A spokesperson told the Times that the video was "highly edited and even staged."
Traditional footage of factory farms tends to be grainy and limited, as the producers are trespassing, and in some cases operating in states with ag-gag laws. Direct Action Everywhere's Wayne Hsiung hopes the technology — which he calls "a game changer" — can counter that. Some of those challenges are still present, however. VR is an emerging technology and the equipment needed to make it is not light; Animal Equality produced its first video by cobbling together film shot on multiple cameras.
Even more difficult, for now, is distribution, as few people have the technology to watch VR. Animal Equality has responded to that by distributing headsets on 117 college campuses, including Yale and Oxford, and is working on a mobile app that will re-create the VR experience as closely as possible. Still, the Humane Society's vice-president for policy Paul Shapiro calls it "more powerful than conventional video," and its adoption by these organizations speaks to its potential — much like photography and video when they first emerged — as a new tool of activism.