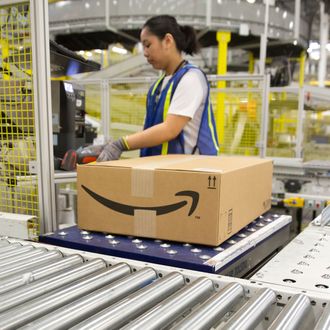 Dinner on its way.
Photo: Robert Daemmrich/Corbis via Getty Images
Everyone suspected this was coming, but there's finally official confirmation this morning that Amazon is indeed plotting a takeover of the meal-kit-delivery business. The dead giveaway was a trademark it filed a couple weeks ago, on July 6, for just such a service. The application outlines an undertaking that will provide customers with "prepared food kits" that are "ready for cooking." It's fair to call this the meal-kit industry's worst nightmare since the e-retailer announced it had inked a deal to buy Whole Foods. Amazon even has the slogan it wants to use: "We do the prep. You be the chef."
Little-known fact: Amazon actually already delivers meal kits through a service called Tyson Tastemakers, a partnership it launched last fall with Tyson Foods. Blue Apron still remains America's largest meal-kit service, but it had a really bad June, when its IPO tanked, and so far the month of July isn't treating it any better. Last week, its stock price sunk so low that you could buy one share for less than a Blue Apron meal. Today's development has already caused the price to plummet by another 9 percent, to a new all-time low of $6.51.