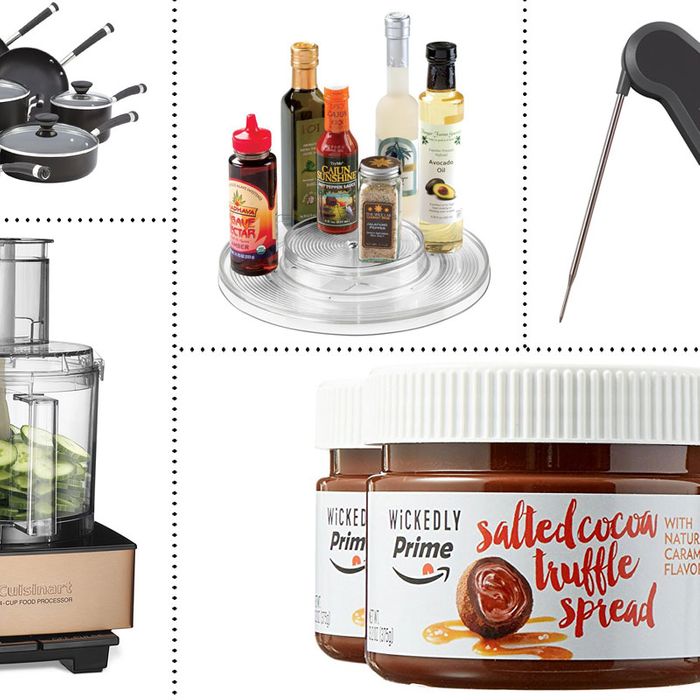 Today marks the start of Prime Day, Amazon's digital rebuttal to Black Friday and 30-hour-long marathon of shopping deals. There are discounts aplenty (some very short) and lots of stuff you may or may not need, like that thing that helps you make ice-cream sandwiches. Grub Street combed through the deals to find the best stuff available for cooks of all levels, and will continue updating this post as more go live. Remember: You'll need to sign up for Amazon Prime first.
Sometimes, you have time to cook. Sometimes, you don't. With a pressure cooker, it won't matter: Your food will cook faster, and you won't have to stand there stirring the pot.
Stand mixers are an indispensable and versatile tool, useful for making ice cream, beating dough, mixing sauces and batters, and much more.
Get with the program and make your smoothies at home. Take them where you go with one of the two lidded cups that it comes with.
If you're going to buy all that expensive wine, you should be doing it right and using a crystal decanter.
As far as modern kitchen appliances go, food processors are indispensable. They make tasks like kneading bread and making sauces like pesto significantly easier.
Are you from Chicago? Do you not care if people think deep dish is pizza or not? Here is your ticket to making it at home.
While you're dreaming of those perfect French copper pots and pans, get this 13-piece set that won't bankrupt you.
Don't serve your whiskey out of the bottle. Look classy when you're having friends over for drinks.
If you want to cook your meat well, but not well-done, there's really no reason you shouldn't have a meat thermometer. Needless to say, it's more accurate than your fingertip.
Lazy susans: They're not just for Chinese restaurants. They're great for organizing pantries, especially if you have limited cabinet space in a small New York apartment, and this one will allow you to get to your spices without moving them all around.
Onion powder is a common ingredient in the meat rubs and spice mixes you'll be making when you grill this summer. Stock up.
If you're tired of Nutella, maybe get a jar (or three) of this chocolate made from sea-salt-caramel truffles.
Every editorial product is independently selected. If you buy something through our links, New York may earn an affiliate commission. Note that due to expiring sales on Prime Day, prices may be subject to change.