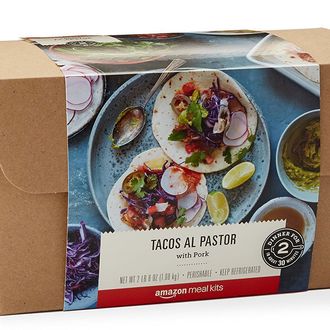 Only yesterday did the world learn that, yes, Amazon is definitely planning a full-scale assault on Blue Apron and the rest of the meal-kit industry. Well, turns out that needs a slight grammatical tense change: Not planning for the future, but planned, like it's already happening. Apparently, a handful of Prime Fresh users can already order the kits online.
The ecofriendly boxes are reportedly smaller than the ones sent by competitors like Blue Apron and HelloFresh, and they come bedecked with big graphics advertising the meal's contents. Inside are recipe cards, like this one for the Tacos al Pastor option: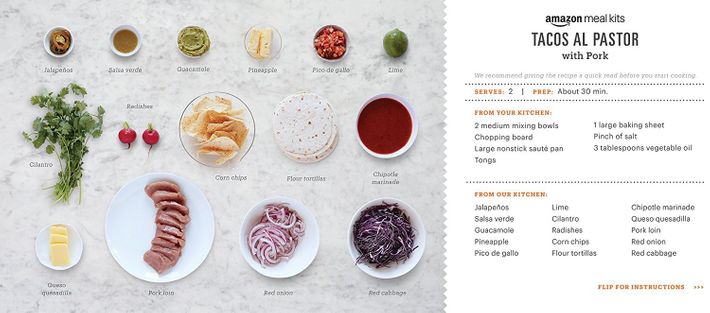 Seattle resident Josh Chadd, who spilled the beans to tech blog GeekWire, says he randomly noticed the Meal Kits page appear on his AmazonFresh account a couple weeks ago. (If you go by the date of the earliest reviews, it's been there since at least late June.) Chadd has only good things to say about the Steak Au Poivre meal he tried, which Amazon says involves an "easy-to-follow, chef-designed recipe" and "perfectly portioned fresh ingredients."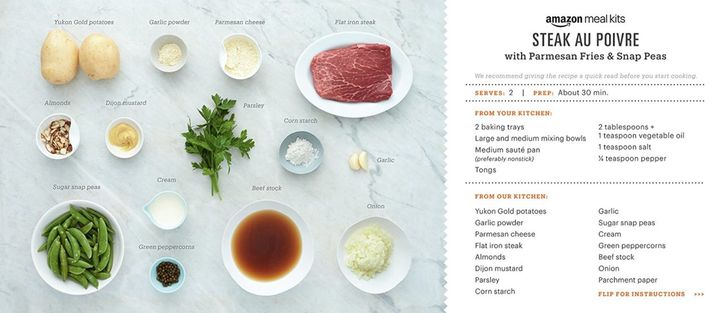 He was a fan of the steak — an eight-ounce flatiron from a local all-natural producer that was "at least of USDA Choice quality." He tells GeekWire it wasn't "an odd or awkward cut, which is often the case with other services." The onions came pre-diced, he adds, and the peas were "very fresh" and contained no blotches. Overall, he rates it "a 9 out of 10 for any meal I've made at home, even with my own ingredients."
Right now, the Amazon Meal Kits page lists 17 different options, running from a salmon niçoise salad to falafel patties. The vegetarian options are cheapest (starting at $14.99), and the others go up as high as $18.99. All of them serve two people.
Obviously, it's a very limited availability right now, but any trial at all is an unambiguous sign that Amazon eventually envisions a proper delivery service that's going to make Blue Apron very sad. It could be a wait before customers get a nationwide rollout — AmazonFresh has been around since 2007, and that service still isn't available to all Prime customers. But, once again, incorporating Whole Foods' distribution network certainly can't hurt.