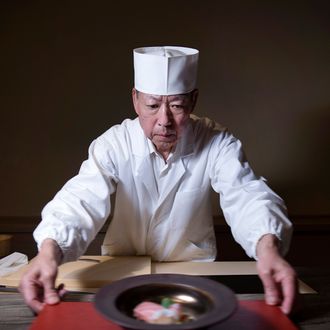 Chef Eiji Ichimura.
Photo: Liz Clayman
This spring, Eiji Ichimura stepped away from Brushstroke to open an eponymous omakase restaurant and partner with one of his most loyal customers — Idan Elkon, who had eaten at Brushstroke over 200 times. They seemed poised for success, charging $300 per tasting and $1,650 for a bottle of sake.
But as Adam Platt noted in his review, "Both the meal and the setting lack the buzz and charisma of Nakazawa, in the West Village, and the next-wave inventiveness of Nick Kim and Jimmy Lau's excellent Union Square establishment, Shuko, and although the quality and range of the sushi might be better than the very satisfying $57 omakase dinner I enjoyed at the new Greenwich Village branch of the Park Slope favorite Sushi Katsuei, it's certainly not six times better." He gave the restaurant one star.
Soon after, Ichimura stepped away from his restaurant. Elkon told Eater that Ichimura's health issues were to blame, but now the Michelin-starred chef is suing his partner. Documents state that Ichimura no longer wants to work with Elkon or have his name associated with the restaurant. In the meantime, guest sushi chefs have taken over, but it seems very likely the restaurant will close.