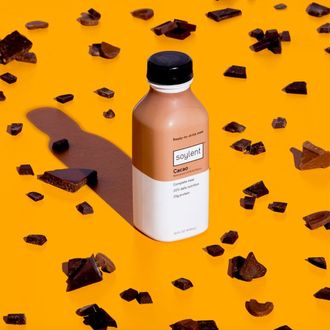 For a true power lunch, pair Soylent with a hot dog and a large Slurpee.
Photo: (PRNewsfoto/Soylent
Somehow, life's about to get even easier for the meal-replacement-diet crowd: Soylent says it's moving "beyond e-commerce" and into the brave new world of actual retail presence. It's inked a deal to test sales at 7-Eleven stores in California. Starting Monday, July 10, customers at 18 locations in the Los Angeles area will find three flavors of bottled Soylent (Coffiest, Cacao, and a new one, Chai) presumably stacked right next to the Muscle Milk, Red Bull, and a dizzying array of other convenience-store supplement drinks.
Soylent says please consider this step one of a broader "retail distribution plan," although it elaborates no further. It's clear the company dreams of growth, though it's unclear where. Recent marketing efforts give a pretty clear look into their perceived audience: the Silicon Valley gamer types who comprise a good percentage of Soylent's customer base.
Also worth noting: Soylent's users are apparently still having "issues" digesting the products, which literally went through four recalls in 18 months. Reddit's r/soylent channel, always a hum of activity, has seen a wave of new complaints pop up again in the past month, with many commenters saying they're still getting sick on the new Nectar and Cacao flavors, which seems like a predictable outcome for people trying to replace real food with some goop in a bottle.