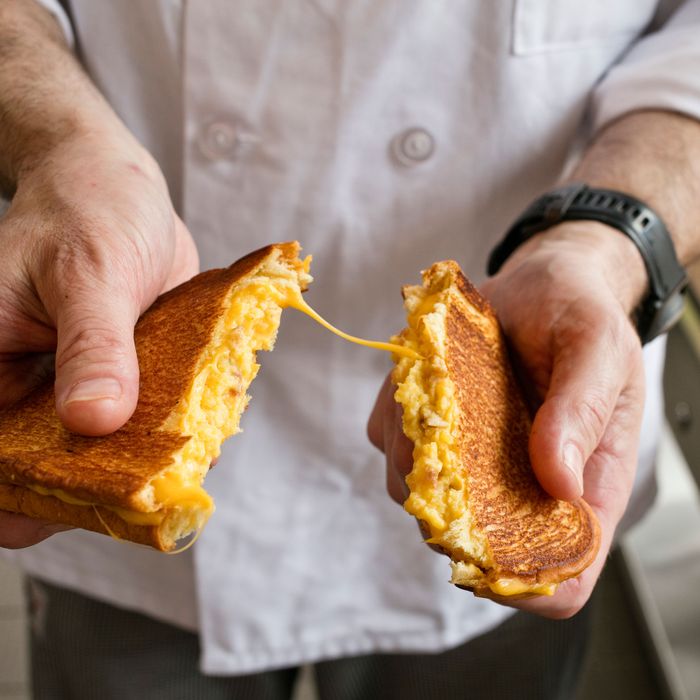 The man and his griddle-toasted bacon-egg-and-cheese.
Photo: Melissa Hom
As much as one would like to begin each and every day with a peanut-butter-and-yuzu doughnut, or maybe a kaffir-corn cruller, it's undoubtedly a good idea to add a little non-doughnut variety to the morning meal.
So when Wylie Dufresne, that master of the immersion circulator and tabletop centrifuge, opened his Du's Donuts and Coffee shop in late April, he promised his public that he'd soon supplement the menu with a breakfast sandwich, and six weeks later, that is exactly what he's done.
Here's what this little gem of a breakfast sandwich consists of: two slices of Land O' Lakes processed fromage; some remarkably soft and moist scrambled eggs mingled with bits of bacon and a little cream cheese; and a couple slices of Martin's potato bread (is Martin's potato bread the new Martin's potato bun?).
What's surprising about this morning mouth-waterer is that it's not just an egg sandwich, but also a grilled-cheese sandwich, by which we mean it's a sort of brilliant, why-hasn't-anyone-ever-thought-of-this-before cross between the two. Also surprising: It's a sandwich inspired more by the crackerjack griddle work on display at Dufresne's favorite coffee shop, Joe Jr., than by any advanced cooking technique he might have delved into at wd~50. The modernist maestro scrambles eggs in a pot; spreads the mixture onto a sheet tray as if he were making a batch of brownies; cools them down; cuts them into svelte slabs to match the size of the bread; snuggles each slab with the cheese; puts the package on the bread; and griddles the thing to a golden-brown fare-thee-well. Think patty melt minus the patty, plus some eggs.
It comes unsliced with the sandwich poking its head out of the top of a well-tailored paper jacket. Portability is the point. "You can take it outside and walk around with it," says Dufresne, but that seems like an understatement. This streamlined sandwich is so meticulously built, you could hold it in one hand while riding a skateboard down Wythe Avenue. And at $4.75 a pop (a baconless version is 50 cents less), you can probably afford one for the other hand, too. Or a doughnut.
The egg sandwiches are available Monday through Friday, 8:30 a.m. to 11:30 a.m, or until the kitchen runs out.