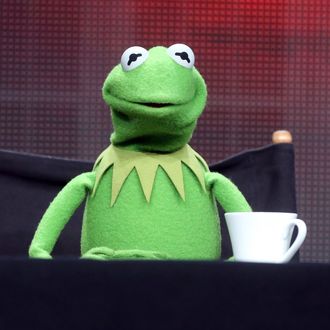 The right person might even pay extra for this much frog.
Photo: Frederick M. Brown/Getty Images
A California woman says the side salad she ordered earlier this month from the chain BJ's Restaurant & Brewhouse came with a pretty good-sized frog. Shawna Cepeda was having dinner with her family at the West Covina location when she noticed something slimy mixed into the greens. She surely had her suspicions about what it was — there's really nothing un-frog-like about that inert amphibian — but she still got second opinions from her husband and their daughter. "He looked, and my daughter looked at it," she tells the San Gabriel Valley Tribune, "and he was like, 'It's a frickin' frog.'"
Cepeda complained, but she says the staff didn't seem that concerned. In the end, she just took her grievance to Yelp:
I ate here last night I ordered a side salad and to my surprise I got more then just a salad. I was about 4 bites into it and I noticed it tasted a little different I thought maybe the ranch dressing was a little bitter and after mixing the salad around some more I found a dead baby frog. Yes I said FROG!
The manager on duty ultimately offered to comp their meal, but that struck her as inadequate, her one-star review explains: "I said no you can keep the food we are not eating here. … I told him this frog could contain salmonella and who knows how long it's been sitting in a produce bag." Cepeda's family still had to pay for their drinks (three beers), which didn't go over well, either. "I mean really," she adds, "I just found a frog in my food from a place that doesnt even carry frog and I still gotta pay for my drinks." BJ's corporate office saw the post and belatedly tried sending her a $50 gift card, which Cepeda calls "a joke."
She also included other pics of the frog from different angles, just so everybody was on the same page: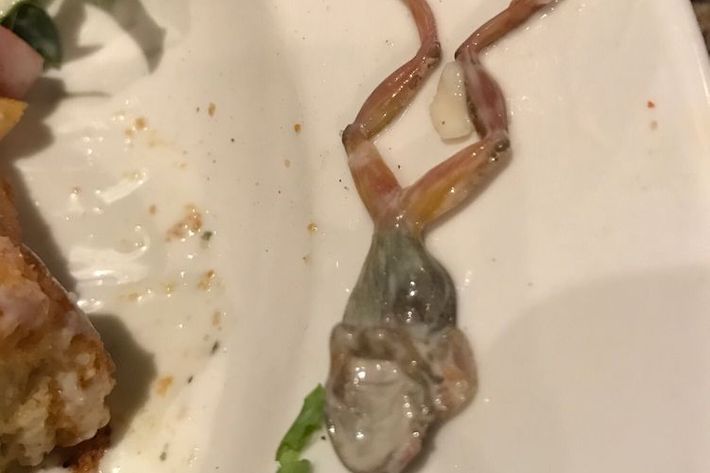 Cepeda says she's felt queasy ever since, and hasn't really been able to eat. She tells the paper she saw a doctor this week, who reassured her that she didn't have salmonella, but gave her antibiotics in case she somehow contracted a different kind of infection. "I've been burping nonstop, everything I eat has been making me sick," she says, adding that "I don't even want to look at salad."