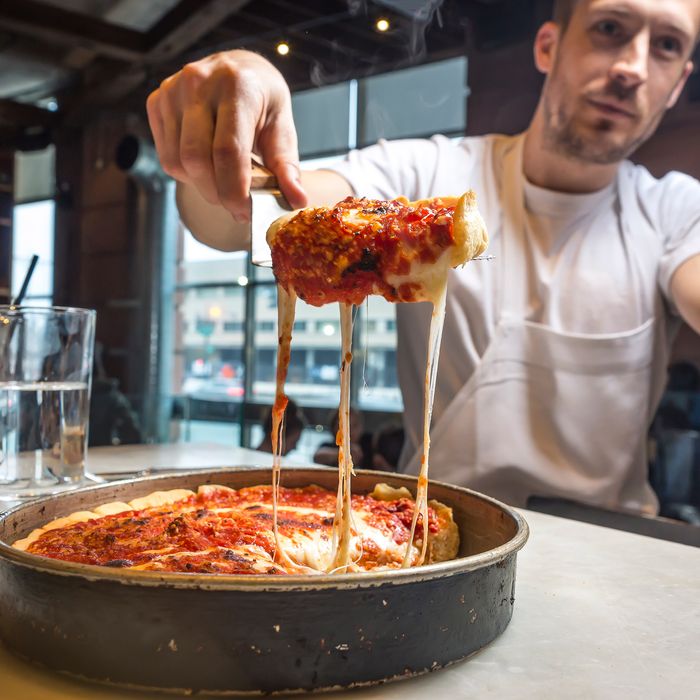 Will Malnati at Toro's Lou Malnati's pop-up this week.
Photo: Noah Fecks/© Noah Fecks
"Whenever someone tells me that they're going to open a restaurant or a bar, my first reaction is, 'Are you sure?'" says Will Malnati, the owner of Toro. "They think about the vanity, but meanwhile, I'm there at one in the morning cleaning out the drain." After 32 years in the business — his entire life — Malnati has learned that the actual work of running a restaurant is far from glamorous.
If you live in the Midwest, you'll recognize the Malnati name. His family owns Lou Malnati's, the beloved Illinois-based deep-dish pizza chain with nearly 50 locations. Malnati jokes that he was probably conceived in a restaurant, and growing up, he says he worked every job at Lou Malnati's. For most young people aspiring to jump into the hospitality industry, a successful chain with a devoted following would sound pretty good, but what's most surprising about Malnati is that he's worked hard to make his own name, quietly opening some of New York's most popular restaurants in the process.
After studying at the Cornell School of Hotel Administration, Malnati moved to Manhattan and started working for the EMM Group, helping to launch massive Meatpacking District club-restaurants Abe & Arthur's and Catch. At that point, even though he was only in his mid-20s, Malnati felt ready to open his own business. He teamed up with a friend, Doug Jacob, and found a massive space at 85 Tenth Avenue, "right next to the big boys" — Del Posto and Colicchio & Sons. The landlord had three vacant spaces, and said he'd give them a good deal if they took all of them.
It was clearly too big for Malnati and Jacob (who recently parted ways) to manage on their own, so they reached out to industry veterans, including Eleven Madison Park's Will Guidara and Daniel Humm. Surprisingly, it was television personality Rachael Ray who set Toro New York into motion; a mutual friend told her about Jacob and Malnati and the space, and she recommended Ken Oringer and Jamie Bissonnette, who had three restaurants in Boston and multiple James Beard Awards. There were lines out of the door at Toro, their small, Spanish-tapas concept, every night.
As Bissonnette recalls: "We looked at the space and could see the ghosts of restaurant guests' future. We met with Will, and he was young and energetic — he has this personality that draws you to him. We had drinks, and he just seemed like a great guy." Bissonnette acknowledges that Will's personal branding (heavy on the glamour shots and celebrity friendships — very millennial restaurateur) doesn't capture his competence and sincerity. "He's like the Matrix: At first you see him, and you're like, I don't get it, and then all of a sudden everything makes sense, and you're like, Oh my god, I can dodge bullets with him by my side. He's so endearing. Plus, he's the prince of pizza!"
Malnati plays down any Neo comparisons, and instead says the partnership worked because it made good business sense. "Other people had tried with them before," he explains. "I think the space was so beautiful and unique that they realized it could be something great. But bringing a concept to New York is never an easy task. It's the 2.0 version of Boston. I told them that I thought a combination of our skills could make a big space like this work. Somehow, we convinced them. Maybe it was the tequila."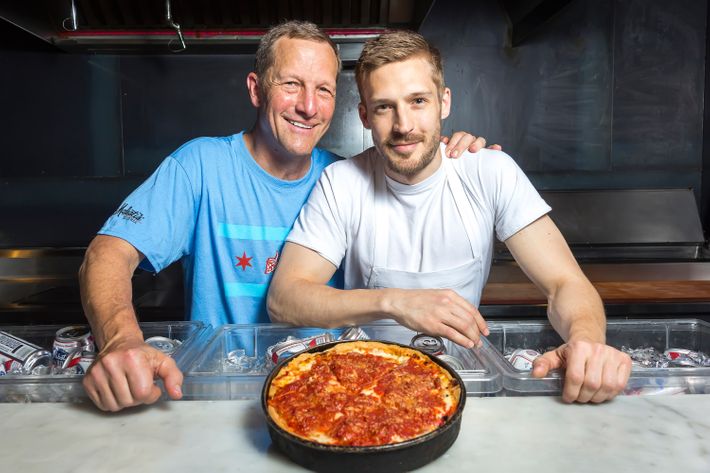 With Toro, Malnati tapped his parents for support, both emotional and — always important in the world of Manhattan restaurants — financial, but just so he could have enough money to create an initial drawing to present to the building's contractors. The big space (and New York rent) for Toro really became feasible after securing a small group of investors who "loved the Toro brand and had already been established." Malnati also turned one of the building's spaces into Willow Road — a small, American gastropub that he opened just three months after signing the lease for the space that included Toro. It closed in 2014, after two years, because Malnati says there were no economies of scale. "A small space just sucks, period," he says. "You put in everything you possibly could to try to make it work, and break even at the end of the day. It's a tough pill to swallow."
Toro, though, has been a big hit since it opened in 2013, and Malnati's worlds collided on Wednesday, when he hosted a Lou Malnati's pop-up at the restaurant. His father, Marc, flew in to cook the pizza (he shipped five gallons of water to make it as accurate as possible). Initially planned as a private dinner for around 80 people, demand — they received 200 emails a day from New Yorkers begging for reservations — led them to hold it in Toro's main room, serving 300 people.
Even as Malnati has asserted his independence from Lou Malnati's, he credits his ties to the empire for his success. "I think there's something to be said about growing up inside of a restaurant, literally," Malnati says. "Especially in Lou Malnati's, where culture is king. That's why the company continues to grow and prosper, and why it has over 100 employees who've been there for 20 years." Bissonnette agrees, "He's got hospitality in him." On the night of the pop-up, when a customer expressed outrage that one pizza was meant to be shared between two people, Malnati told him, "I am going to make it my personal duty to make sure you leave having had enough." Every five minutes, he returned to add more slices to the man's plate, stacking them on top of one another. "At the end of his meal, there was still half a slice left on his plate," Malnati remembers. "I walked over and said, 'Hey, you better finish that slice.' He did. Slowly. He was laughing, and he and his friends left, very full, having had a great time."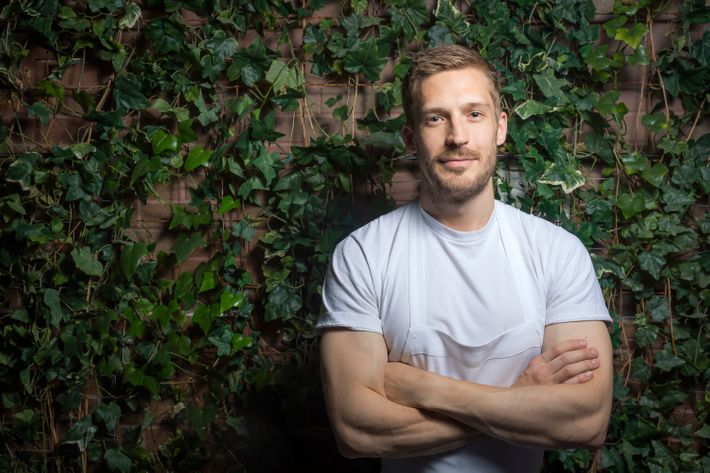 Malnati does spend time thinking about if he should take over the family business. "Of course there's desire, and of course there are conversations," he says. "The company's massive, so it's a lot different now — 3,500 employees, almost 50 locations. They sold 5 million pizzas last year!" He says it's daunting to think about running a company that size, which is a major change from a 120-seat restaurant. "It's not easy. I think I've learned a lot thus far. We're starting to expand Toro internationally [to Bangkok, and soon, Dubai]. There's a lot that I still want to learn. Anything is a possibility."
But if there was any doubt, Wednesday's pop-up proved that there's a loyal Lou Malnati's audience in New York. "I've started whispering to my dad, 'Lou Malnati's NYC,'" Malnati says, smiling. "Like, look, if we can pull that off — I'm just saying, maybe, it's worth looking at some spaces."