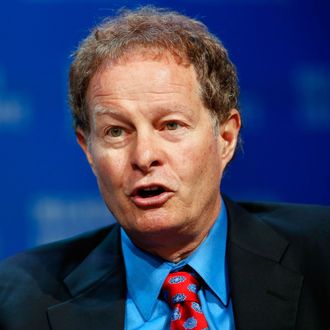 John Mackey.
Photo: Patrick T. Fallon/Bloomberg via Getty Images
Whole Foods' besieged CEO John Mackey understands that the company needs "to get better," but he'll be damned if he plans to go down without a war — of angry words, if nothing else. At least that's the gist from this long profile on the organic-grocery mogul in Texas Monthly's new June issue. In it, he holds very little back indeed about his animosity for the activist investors who've been after his neck for months now. He believes the company's improving already, and argues that makes the Wall Street investors circling him like vultures a bunch of "greedy bastards."
That, plus he also uses a more colorful literary analogy:

"Did you ever read The Lord of the Rings when you were younger? Do you remember the Ringwraiths?" he asks. "They were consumed by the Ring of Power. They became addicted to it and they became absorbed by it. Well, there's an element in finance that consists of a bunch of Ringwraiths, and no matter how much money they have and how many billions they have, it's not enough. They're Ringwraiths.
Mackey tells the magazine that Jana Partners — the activist hedge fund that's been the main thorn in his side since acquiring nearly 9 percent of the company two months ago — is "putting a bunch of propaganda out there, trying to destroy my reputation and the reputation of Whole Foods, because it's in their self-interest to do so." He's no fan of Jana. Not its efforts to shake up Whole Foods' board, and definitely not their attempts to armchair-quarterback his management style, down to how Whole Foods schedules employee work hours. Jana's grumbling started at the same time Mackey was busy launching The Whole Foods Diet, his new book on the benefits of veganism. His theory is that the timing wasn't unintentional. "They hijacked my book tour," he tells the magazine. "It's not that I think that they were trying to harm the book tour. It's just like, 'OK, the CEO is going to be distracted. He's not going to be able to give full attention to this.'"
Mackey's time at the helm of Whole Foods has hardly been without controversy, but if investors think he can be deposed easily, they shouldn't overlook all the comical one-liners he fed Texas Monthly. "These people … just want to sell Whole Foods Market and make hundreds of millions of dollars," he informs the magazine. "That's my baby. I'm going to protect my kid, and they've got to knock Daddy out if they want to take it over."