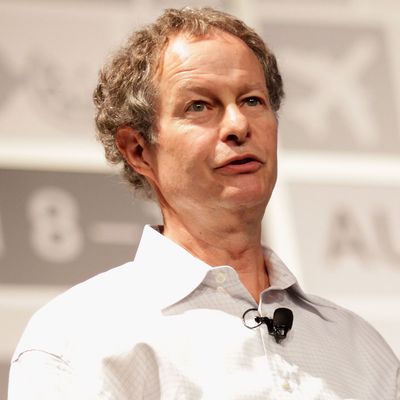 Obviously thinking about their first date together.
Photo: Dustin Finkelstein/Getty Images for SXSW
Despite rumors that soon-to-be-owner Amazon might slash jobs by automating portions of Whole Foods stores, CEO John Mackey is stressing that the deal's still basically a match made in heaven. He didn't use that phrase per se when describing the deal to employees at a town hall on Friday, but he might as well have: If you read the transcript of his remarks, which Whole Foods included yesterday in a new SEC filing, his praise of Amazon sounds more like a man toasting his fiancée at their engagement party. In fact, Mackey literally used romantic terms to explain their new business relationship pretty much every chance he got — a far cry from comparing Wall Street investors to "greedy bastards" who remind him of J.R.R. Tolkien's Ringwraiths, which he did last week.
This, for example, is how he started things off:
How did we meet? It was actually mutual friends set us up on a blind date. [We] flew up to Seattle a little over six weeks ago. And we just fell in love. It was truly love at first sight … We talked for two and a half hours. I think we could've talked for 10 hours. When we huddled together, we just had these big grins on our faces, like, "These guys are amazing." They're so smart. They're so authentic. They say what's on their mind. They're not playin' a bunch of BS games. And it was like, "This is gonna be so incredible."
The smitten CEO called it a "whirlwind courtship," though he also admitted he had a dream 18 months ago that Amazon and Whole Foods would one day get together. This was offered up as proof that their love affair is for real, not what young people on those dating apps today call "a hookup":
We're officially engaged … But like an old traditional marriage, where there are all kinds of rules and chaperones, we can't consummate the marriage until we're actually officially hooked up. This is not a Tinder relationship.
He also added that Amazon is "not stupid enough" to mess with Whole Foods' high food-quality standards, but did hint at the possibility that "over time, there could be other formats that evolve that … wouldn't be to our standards." Jeff Bezos might demand a man cave, in other words, but it "wouldn't be branded Whole Foods Market," he assured his employees, and will definitely occupy the basement level underneath the garage.