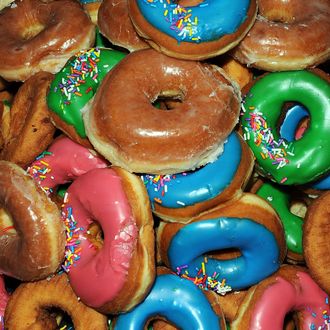 Time to get the free doughnuts.
Photo: Andrew H. Walker/Getty Images
Tomorrow is National Doughnut Day, an actualish holiday created by the Salvation Army back in 1938 to honor its female volunteers who fed soldiers in France during World War I. These days, all the big coffee chains are forced to celebrate by offering their sugary treats to everybody for free. It's an example of the consequences of American consumerism at their finest. Here are all the spots where a person interested in participating in Friday's commemoration can find the best doughnut deals.
Dunkin' Donuts: The chain's offering a free classic doughnut of your choice with the purchase of any beverage.
LaMar's Donuts: Bring in this "Golden Ticket" (either printed or on your phone's screen), and you can have any doughnut "with a hole" for free, no purchase required.
Cumberland Farms: The convenience-store chain is giving away one free doughnut between 5 a.m. and 10 a.m. to anyone who purchases a coffee or fountain drink from its "concept store" locations in the Northeast and Florida.
Duck Donuts: Any purchase hooks you up with a freebie at any of the chain's shops throughout the mid-Atlantic. Receipts will also be printed with a coupon for a buy-one-get-one deal: Purchase half a dozen, get the next six for free.
Tim Hortons: Buy a hot or iced coffee and mention it's National Doughnut Day, and your reward will be a free one.
Krispy Kreme: To show the competition how it's done, Krispy Kreme is also giving away "any doughnut" for free, and there's no additional purchase or coupon necessary.
Underwest Donuts: The maker of New York's absolute best doughnuts is handing out free mini sugared doughnuts at the West Side Highway Car Wash location, and free mini glazed doughnuts at the Penn Station location. Supplies of both will run out fast, but that's okay because Underwest is also unveiling a brand-new flavor on Friday, caramel corn, that isn't free per se, but does include several popcorn pieces embedded gratis on top.
Entenmann's: From 7 a.m. to 1 p.m., the company will be giving doughnuts away by the thousands in Times Square (on Broadway, between 43rd and 44th streets). Mr. Rich Frosted and Mrs. Crumb Donut will also be on hand for photo opportunities.
Hard Rock Cafe: For some reason, the Times Square Hard Rock is also getting in the spirit with four doughnut-themed menu items: a Sweet & Spicy Donut Burger, a Glazed Over Easy Breakfast Burger, a Donut Day Sundae, and a "delicious" Chocolate Donut-tini. These aren't free though. Just weird.