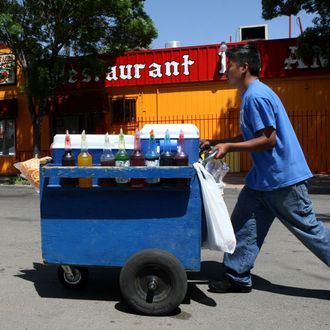 The near future for Los Angelenos.
Photo: Justin Sullivan/Getty Images
Food vendors will soon be able to lawfully sell shaved ice and elotes on L.A.'s sidewalks, and it's thanks to President Trump. Not because he cares about improving the city's street eats, mind you. (In fact, he'd probably avoid them at all costs.) It's because the Los Angeles City Council is afraid that since vending from the street is prohibited and a fair amount of the people who choose to do it anyway are undocumented immigrants, ICE could use an infraction as grounds to deport them.
L.A.'s food-truck scene is thriving, as anyone who's heard of Roy Choi, seen Chef, or basically visited Los Angeles knows. But up until city lawmakers voted earlier this year to legalize it, L.A. was the only major U.S. city where selling food directly from the street was illegal. A decriminalization fight has been in the works for years, and it will finally get a tasty payout once the city works out the fine print. City Councilman José Huizar first proposed legalizing street vending back in 2014, but couldn't get enough backers. Then Donald Trump got elected: "Once Trump was elected and his anti-immigration, anti-Latino rhetoric was at the forefront of his campaign," he tells NPR, "council members around the city council decided to move forward." Their unanimous vote to decriminalize came in the context of street vendors risking having their products seized, getting tickets, or even being charged with misdemeanors — reasons the Trump administration hasn't hesitated to use to round up immigrants. "We didn't want to take a chance in further assisting with the division of families, should some of these individuals get caught up in the court system because of a small infraction," Huizar explains.
The city is testing a vendor-permitting system right now on a plaza that's privately owned (so vendors aren't selling in "public"). Once time comes to figure out the citywide ordinance, council members expect fights over who can sell what where, and how to punish violators, considering how lax enforcement of the ban is at present. But supporters argue it's an all-around win for everybody because it lessens the chance of a family getting ripped apart by ICE, and also makes street vendors a formal tax-paying, permit-getting part of the city's economy. The city is expected to issue a report later this summer.